Fifteen students honored as Coca-Cola First Generation Scholars

Fifteen University of Georgia students, representing a variety of disciplines and backgrounds, were honored as graduating Coca-Cola First Generation Scholars at a dinner held in April at the Richard B. Russell Building Special Collections Libraries.
Rahul Shrivastav, vice president for instruction, welcomed scholars and guests to the event and introduced the speakers, including Jim Dinkins (BBA '84), president of Coca-Cola North America, who inspired students to be "boundaryless" and fearless in their pursuits, and UGA President Jere Morehead, who provided his first-generation student perspective.
Recent Coca-Cola First Generation scholar and graduate Cyrus Townsend (AB '19), who is interning at Turner Studios Creative Services this summer before pursuing a film-making career, encouraged his classmates to reach beyond their limits.
"Thanks to the Coca-Cola First Generation Scholarship, I was able to do things I never would have imagined," Townsend said. "The Coca-Cola Foundation gave this first-generation student his first-step at pursuing his career, and gave me the opportunity to believe that my dreams are achievable."
Former Coca-Cola First Generation Scholar Jia Liu (BBA '12, MACC '13) was the program's first alumnus guest speaker. She currently works for PricewaterhouseCoopers, specializing in internal auditing for multi-national public clients assessing their business and IT risks and process gaps, which includes prior experience in providing internal auditing assistance to Coca Cola's Corporate Audit Department. Liu provided these parting words to the students: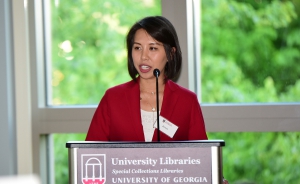 "If I could leave you with one piece of advice, I would tell you to use the opportunity created by this scholarship to learn, grow, and challenge yourself. Explore and experience all that the UGA campus has to offer. Work hard and stay focused on your goals, but don't forget to enjoy these years in college. I loved UGA and the time that I spent here. I hope all of you will have the same feeling when you leave this campus."
This year's graduates served as mentors, ambassadors, tutors, and resident assistants; conducted research; flexed their creative muscles as musicians, writers, and filmmakers; fed the hungry with UGA's Campus Kitchen at UGA; promoted literacy through Books for Keeps; and nurtured animals at the Athens Area Humane Society. They showed their Bulldog pride as Game Day Fangineers and members of the Redcoat Marching Band, and their studies took them to our nation's capital and beyond, from Spain to Shanghai, Canada to Cannes.
"Our scholars are headed to graduate and professional schools and careers in business, education, entertainment, politics, and social services because of their invaluable experiences inside and outside the classroom. This program remains vital to the success of our first-generation students, and we are thankful for The Coca-Cola Foundation in their generous support of this program for the last 12 years," said Shrivastav.
Each graduating student was recognized with their UGA accomplishments by T. Chase Hagood, director of the Division of Academic Enhancement, and a certificate presented by President Morehead, Shrivastav, and Dinkins. Kirk Glaze, director of community partnerships for Coca-Cola North America, presented gifts to each student on behalf of the UGA Office of Instruction, Division of Academic Enhancement, and The Coca-Cola Company.
The Coca-Cola First Generation Scholarship supports academically outstanding students who are the first in their families to attend college. The scholarship, which provides $5,000 per year in addition to the HOPE Scholarship, is renewable for an additional three years if the recipients maintain certain academic standards. In addition to financial support, students also receive support and services through several unique academic programs to help them to adjust to college life, as well as opportunities for growth. The Coca-Cola Foundation has provided the scholarship to 165 University of Georgia first-year students since 2007.
https://give.uga.edu/wp-content/uploads/CCFG-gifts.jpeg
800
1200
Clarke Schwabe
https://give.uga.edu/wp-content/uploads/logo-campaign-uga.png
Clarke Schwabe
2019-06-17 14:48:36
2019-06-17 14:48:36
Fifteen students honored as Coca-Cola First Generation Scholars