Strickland Foundation creates UGA scholarships for rural Georgia students

Athens, Ga. – The George W. Strickland, Jr. Foundation recently gifted $400,000 to the University of Georgia to establish four Georgia Commitment Scholarships (GCS).
The scholarships will be awarded in fall 2019, prioritizing students from 16 rural Georgia counties: Evans, Tattnall, Bryan, Bulloch, Candler, Liberty, Toombs, Emanuel, Jenkins, Screven, Burke, Appling, Wayne, Glynn, Long and Effingham.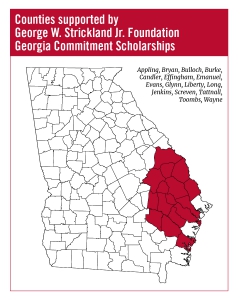 The Strickland Scholarships will impact students in rural Georgia, an area that had deep meaning to the foundation's namesake, Evans County native George W. "Jack" Strickland, Jr., a United States Army veteran and business owner in Claxton, Ga.
In 1948, Strickland founded the Evans Concrete Products Company, which would grow to serve each of the scholarships' 16 identified counties. Strickland strove to improve the quality of life in southeast Georgia.
Strickland, who died in 2010, "always credited his tremendous success to his dedicated employees and his loyal customers, but his personal leadership, vision, and commitment to the needs of individuals and families have significantly strengthened their opportunities and well-being," according to a 2002 resolution adopted by the Georgia General Assembly.
Upon the passing of Strickland's wife in 2016, the foundation was established to carry on Strickland's altruistic legacy. The foundation's board members—Wendell Godbee (BBA '62), Tommy Strickland, and Sharon DeLoach—continue Strickland's quest to support education and his community, guided by a Henry Drummond quote Strickland was known to carry on a hand-written card in his wallet.
"I shall pass through this world but once," read the card. "Any good therefore that I can do, or any kindness I can show to any human being, let me do it now, let me not defer or neglect it, for I shall not pass this way again."
The GCS program aligns with the Foundation's passion to strengthen communities, provide opportunities for education, and inspire the next generation. Students receiving the Strickland Scholarships will not only receive a scholarship and tailored programming provided by the Division of Academic Enhancement, but also the opportunity to participate in the newly established ALL Georgia Program.
The ALL Georgia Program supports all rural students at UGA with a network of resources and common experiences, in addition to providing unique programs and opportunities to the scholars. The ALL Georgia Program promotes the mission of UGA as the flagship institution of higher education in Georgia by improving access for rural populations and creating a broad-based collaboration across multiple offices at the university.
"We are appreciative of the George W. Strickland, Jr. Foundation's commitment to our rural Georgian students and know that the lives of these students and their families will be positively impacted for generations to come," said Kelly Kerner, UGA vice president for development and alumni relations.
Through the Georgia Commitment Scholarship Program, the UGA Foundation will match—dollar for dollar—each of the four $100,000 scholarships to establish an endowed, need-based scholarship for undergraduate students. The endowed scholarship will last in perpetuity, helping student after student earn a UGA degree. Since the matching program's creation in 2017, over $56 million has been dedicated to new need-based scholarships, with over 285 donors giving to the program.
Georgia Commitment Scholarships are awarded to students through the Office of Student Financial Aid (OSFA).  Additional information on this process can be found on the OSFA website, osfa.uga.edu.
As a major component of the Commit to Georgia Campaign's effort to remove barriers for students, the Georgia Commitment Scholarship Program has been a critical element of UGA's fundraising success over the past two years. To find out how you can contribute to that success, visit give.uga.edu/georgia-commitment.
https://give.uga.edu/wp-content/uploads/CCfeatureimg-StricklandFoundationGCS.jpg
800
1200
Clarke Schwabe
https://give.uga.edu/wp-content/uploads/logo-campaign-uga.png
Clarke Schwabe
2019-06-27 06:00:02
2019-06-28 12:50:08
Strickland Foundation creates UGA scholarships for rural Georgia students