Coca-Cola Foundation commits $1 million to first-generation UGA students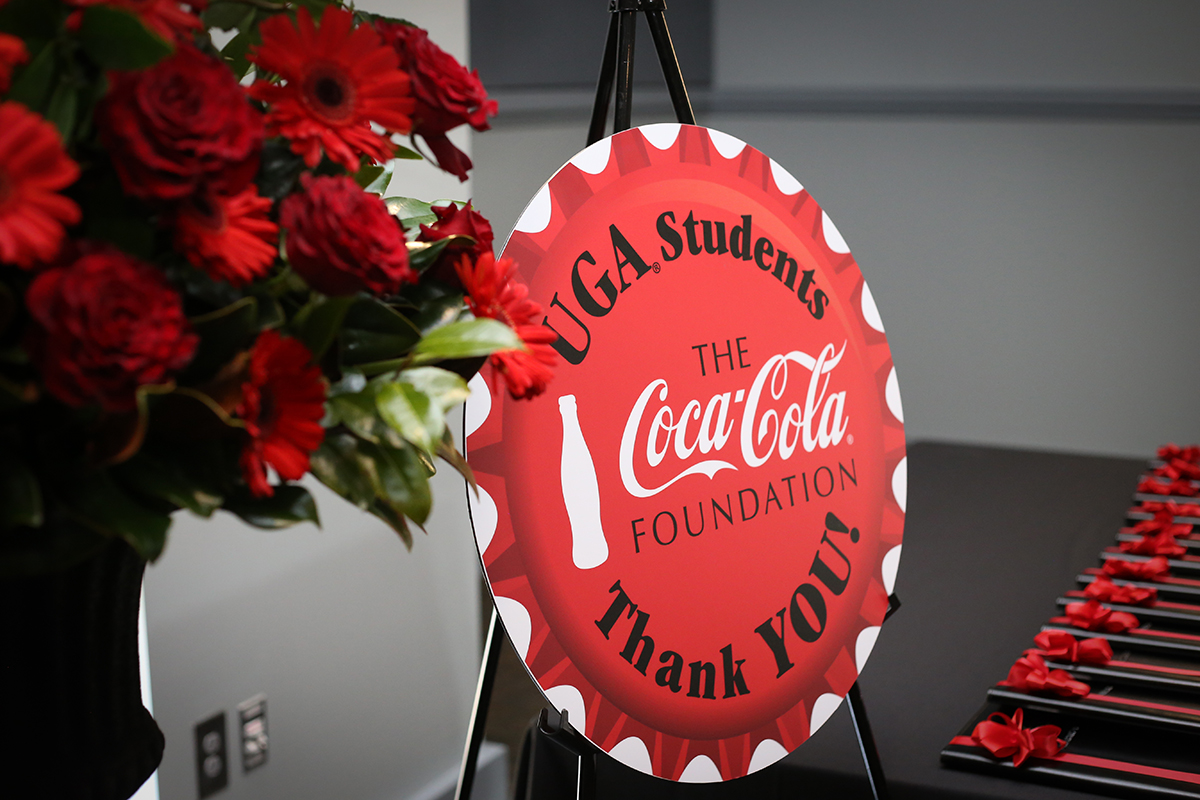 The Coca-Cola Foundation has pledged another $1 million toward scholarships for University of Georgia students who are the first in their families to attend college. It is the foundation's fourth such commitment, adding to its positive impact on the trajectory of students' lives and the futures of their families and communities.
In 2007, The Coca-Cola Foundation established the Coca-Cola First Generation Scholars Program at UGA with a gift of $1 million and continued its support in 2011 and 2015 by making $1 million gifts for additional cohorts of Coca-Cola First Generation Scholars.
"We are grateful to The Coca-Cola Foundation for helping us remove financial barriers for first-generation students and enhance their academic experience," said President Jere W. Morehead. "The Coca-Cola First Generation Scholars Program bolsters the University of Georgia's efforts to cultivate a diverse and supportive learning environment composed of academically talented students from a variety of backgrounds."
The Coca-Cola First Generation Scholarship provides $5,000 per year and is renewable for an additional three years if the recipients maintain certain academic standards. This highly successful partnership between UGA and The Coca-Cola Foundation has transformed the lives of 165 first-generation students since 2007.
"We understand the value of education and its power to change lives," said Helen Smith Price, president of The Coca-Cola Foundation. "We are excited to be partners in the promise of education, helping students pursue their academic dreams and realize their full potential."
The scholarship program goes beyond financial aid, surrounding students with a wealth of resources through UGA's Division of Academic Enhancement, including mentoring programs, academic workshops and tutoring services, to help them adjust to college life and support their academic, cultural and financial success. Coca-Cola First Generation Scholars also have access to unique extracurricular experiences such as team-building activities, group retreats and field trips.
Cyrus Townsend, a Coca-Cola First Generation graduate, currently works for WarnerMedia's Turner Studio. In the spring, he had the opportunity to speak to his fellow UGA Coca-Cola First Generation classmates and encouraged them to reach beyond their limits.
"Thanks to the Coca-Cola First Generation Scholarship, I was able to do things I never would have imagined," Townsend said. "The Coca-Cola Foundation gave me my first step at pursuing my career and gave me the opportunity to believe that my dreams are achievable."
The Coca-Cola First Generation Scholars Program is just one example of Coca-Cola's commitment to supporting Georgia's flagship university. The Coca-Cola system and their associates have been longtime supporters of UGA and its students, faculty and programs.
Coca-Cola's giving history to UGA dates back more than 50 years. The company's contributions, totaling over $17 million, have helped the university continue to prosper and achieve its three-part mission of teaching, research and public service.
https://give.uga.edu/wp-content/uploads/FeatImg2-2020-CCFG.jpg
423
1220
Clarke Schwabe
https://give.uga.edu/wp-content/uploads/logo-campaign-uga.png
Clarke Schwabe
2020-01-22 11:04:01
2020-01-22 11:04:01
Coca-Cola Foundation commits $1 million to first-generation UGA students