Tech industry leader, academic honors UGA mentor with scholarship

"Do not let the problem defeat you!" These words of wisdom have inspired Dr. Greg Lavender (BS '83), since the moment they were delivered 40 years ago, when he was a Computer Science major at the University of Georgia. He attributes these encouraging words to Dr. Jeffrey W. Smith, associate professor in UGA's Department of Computer Science.
Smith made his mark at UGA as one of the first faculty members to teach computer science. Even in those early days, it wasn't an easy program of study. Enrollment ranged from a couple of hundred students in the first years to over a thousand in subsequent years. The fledgling department's work was made even more challenging due to an evolving curriculum as the field of computer science rapidly expanded. However, after several years, the program stabilized and the faculty members were able to steadily expand the rate of computer science graduates at UGA. Today, computer science is one of the most popular majors on campus.
Lavender considers himself lucky to have been in the first graduating class of computer science majors to have studied under Smith. For Lavender, Smith was a role-model professor who demonstrated excellent teaching ability combined with advanced research.
Smith saw research as his obligation—understanding it was important to add to the burgeoning field of computer science—but teaching was his priority. He wanted students to learn what was useful and memorable. For example, seeing the evolving field of computer science and the rapidly growing interest in game programming, Smith developed a course to be taught around video game programming. He is a firm believer that during the short period of time students are at the university, faculty should strive to make an impact in their lives and teach what is meaningful.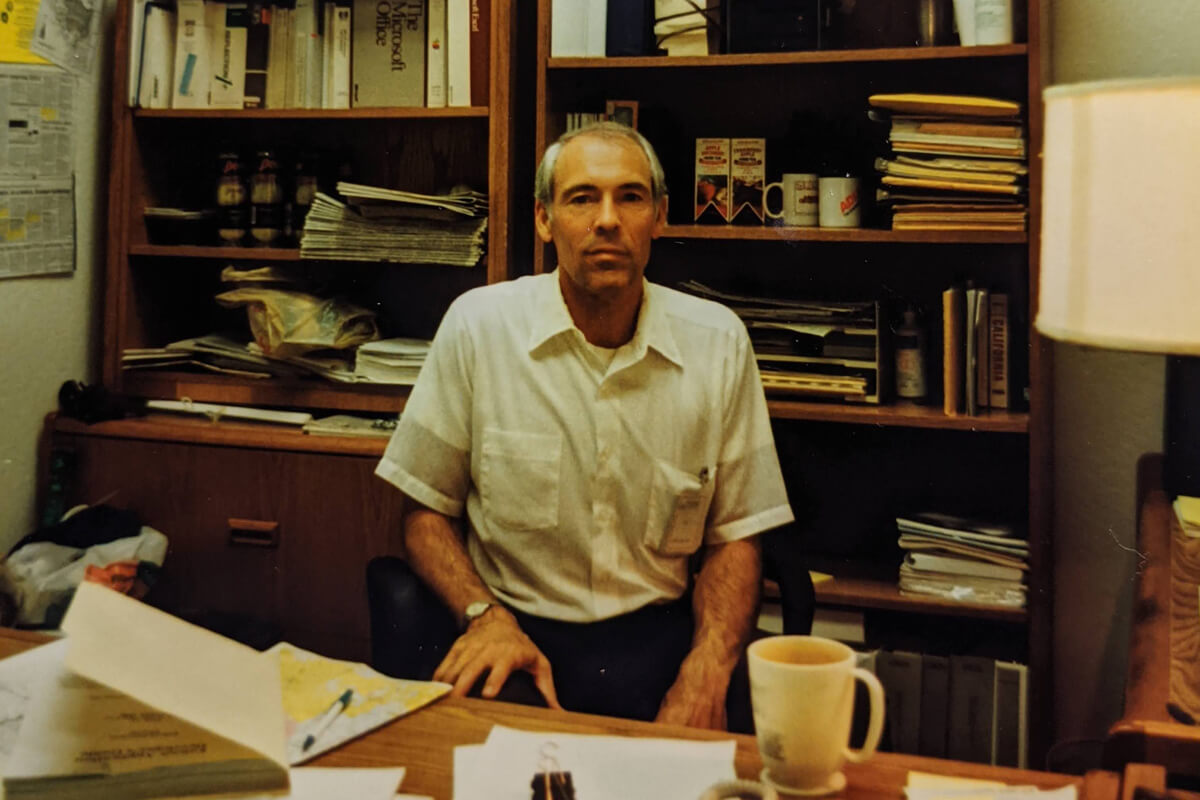 Dr. Jeffrey W. Smith in his UGA office during the late 1980s
This meaningful connection was not lost on Lavender. With Smith's encouragement and a letter of recommendation, Lavender chose to pursue his master's and Ph.D. in computer science at Virginia Tech.
Upon graduation from Virginia Tech with a Ph.D. in computer networking, Lavender became a research scientist at a premier research laboratory in Austin, and he also started teaching in the Department of Computer Sciences at the University of Texas at Austin (UT-Austin). His teaching style was inspired by Smith's style, always putting students first and motivating undergraduate and graduate students with the same words that motivated him: "Do not let the problem defeat you!"
During his years in academia, Lavender became Associate Chairman for Academics, which included supervision of the graduate program. One year, a new graduate student admitted to the top-10 UT-Austin Computer Science Ph.D. program was Alison Norman (née Smith). She introduced herself to Lavender as the daughter of his long-ago undergraduate professor.
Alison exhibited a strong interest in gaining classroom teaching experience, so Lavender assigned her to teach an introductory undergraduate programming course, rather than be a traditional teaching assistant. Alison is now an Associate Professor of Instruction at the Department of Computer Sciences at UT-Austin. This was truly a full-circle moment for Lavender to be able to help the daughter of his undergraduate professor follow in her father's footsteps.
Lavender, who is currently Chief Technology Officer of VMware, Inc., in Palo Alto, has had a long and successful professional career in research, academia, startups and major tech companies in Silicon Valley. Reflecting on that success and the people who helped him get there, Lavender wanted to honor Smith's lifelong dedication to teaching, which he credits for inspiring him and many other students. In 2019, Lavender established an endowed undergraduate scholarship in Smith's name as part of the Georgia Commitment Scholarship Program to pay tribute to the impact he made in his life and the lives of other UGA students.
Lavender had the privilege of sharing this news with Smith and his family over a barbecue in Texas, where Smith, now retired and emeritus, resides with his wife, daughter and her family. The scholarship was awarded to a deserving UGA student in Fall 2019.
"Having a scholarship in my name is beyond gratifying," remarked Smith. "It does acknowledge the appreciation for the attention to teaching."
You can help support the Dr. Jeffrey W. Smith Georgia Commitment Scholarship fund by donating via this giving form.
https://give.uga.edu/wp-content/uploads/FeatImg-2021-LavenderSmith-V2.jpeg
423
1220
Clarke Schwabe
https://give.uga.edu/wp-content/uploads/logo-campaign-uga.png
Clarke Schwabe
2021-04-27 10:35:20
2021-04-27 10:35:20
Tech industry leader, academic honors UGA mentor with scholarship