Alumnus leaves historic gift to UGA College of Environment and Design
When Jim Lambert, a graduate of the Master of Landscape Architecture program at the University of Georgia's College of Environment and Design (CED), passed away in 2011, he left money in a family trust to be given to his alma mater.
Jim's wife, Paula, made good on his wishes earlier this year: pledging a planned gift from the trust that will create a $5 million endowment supporting international travel for CED's landscape architecture students. Once realized, the gift will be the largest in CED's history.
"This gift from Jim and Paula will have a profound effect on our programs, and we are deeply thankful for their generosity" said CED Dean Sonia Hirt. "This amazing support for international study will, of course, enhance our curriculum and create incredible experiences for our students. The gift will also be a tremendous asset in recruitment: Prospective students will know that our programs can help them go anywhere on the planet."
Funding recipients will be chosen by a faculty committee reviewing student proposals for international study across the globe. Because so many more students will be able to travel abroad, the endowment may also spur faculty to create new study away programs.
The quantity of potential awards is also significant: College administrators estimate that the money generated by the endowment each year could more than double the number of scholarship recipients for the long-standing study away program in Cortona, Italy and the College's newer international Maymester program in Croatia.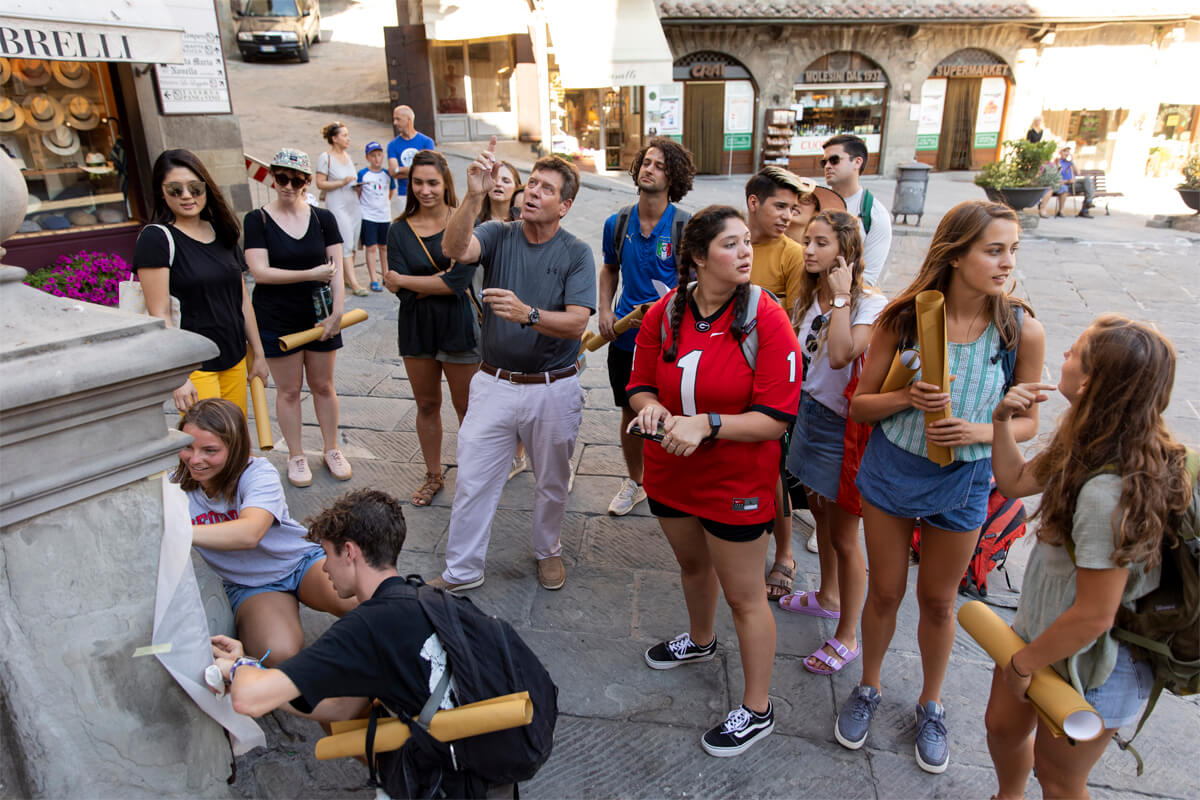 A landscape architecture class visits the Piazza della Repubblica in the city center of Cortona, Italy
"When Jim left this gift in his will, we just never considered what an impact it could make," said Paula. "So, when I spoke with the dean, it was heartwarming and exciting to learn what this gift might do."
Paula contributed a $100,000 current gift of her own to begin opening up travel opportunities for landscape architecture students. The gift will be awarded in $10,000 increments over 10 years.
"I'm just thrilled to be able to do this," said Paula. "I want my gift and Jim's to change students' lives by helping them see the world, make friends, learn about other countries and other cultures and improve their knowledge in their specific areas of interest."
Jim and Paula were both passionate about international travel. In fact, while their first brief meeting was in Texas, their second was in Italy.
"Just before Jim was headed to UGA for his master's, he went on a long trip to Europe, a three-month summer trip to see all these beautiful, historical landscaped gardens" said Paula. "And he just happened to pass through Perugia, where I was studying Italian and art history. We met again and fell in love and decided to get married."
Travel was integral to Paula's development as an entrepreneur and cheesemaker—she has owned the successful, Dallas-based Mozzarella Company since 1982, when she sought to recapture the Italian cuisine she missed after returning to the US—and Jim's development as a student and owner of a landscape architecture firm.
With their landmark gift, the Lamberts open the doors for countless future landscape architecture students to have their own foundational travel experiences—anywhere on Earth.
https://give.uga.edu/wp-content/uploads/FeatImg-2021-Lambert-V2.jpeg
423
1220
Clarke Schwabe
https://give.uga.edu/wp-content/uploads/logo-campaign-uga.png
Clarke Schwabe
2021-04-26 15:29:47
2021-04-26 15:30:55
Alumnus leaves historic gift to UGA College of Environment and Design