Meet the Student Callers: Ryan Clark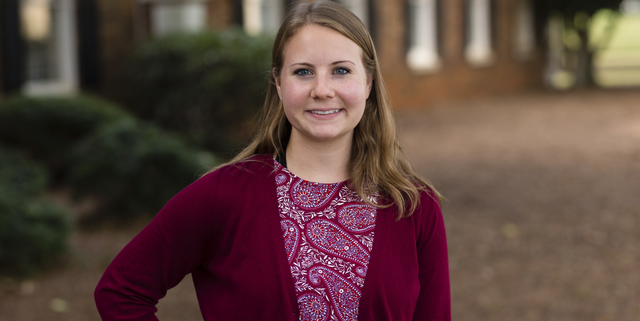 In the first year of the public phase of the Commit to Georgia Campaign, University of Georgia donors set a new record in fundraising, contributing $227.8 million in new gifts and pledges. More than $1 million of that was raised by UGA's student callers. Ryan Clark  is one of them, and we recently spoke to her to learn more about her UGA experience and what she enjoys most about working at the call center.
What brought you to UGA?
"They had a program for freshmen called UGA First Look, where you get to spend a whole day at the university experiencing campus and what it would be like to be a student at UGA. The moment I set foot on campus, I knew it was where I had to be."
What is your major?
"I'm double majoring in political science and economics."
So far, what is your favorite UGA memory?
"I went on a service trip with UGA IMPACT. We went to Durham, North Carolina, and our focus was food justice. We worked with community gardens, local homeless shelters and food banks, teaching people in the community how to be self-sufficient, especially in lower-income areas."
What do you enjoy most about your job in the call center?
"I really enjoy talking to alumni because you can have a lot of interesting conversations with them. It's nice to hear how people are using their degrees from UGA to do great things."
What impact do you hope that your work and the donations received by student callers will have on the university?
"I hope that it will provide more opportunities for students to get involved on campus and remain involved once they graduate."
Update: Ryan Phillips (BA '19, '19) now works as a Development Officer with the Division of Development & Alumni Relations at UGA. The Engagement Center helped her discover a passion for higher education philanthropy and gave her the opportunity to open doors for students as a career.

https://give.uga.edu/wp-content/uploads/440805808048841.MFegT0AstbRgU0C6fMOY_height640.png
427
640
Josh Mixon
https://give.uga.edu/wp-content/uploads/logo-campaign-uga.png
Josh Mixon
2017-10-17 12:22:03
2020-06-22 11:19:53
Meet the Student Callers: Ryan Clark