John McMullan Donates Dahlonega Gold Coin Collection to UGA

Above: John McMullan (center) with son Tom McMullan (left), wife Marilyn McMullan (second from left), daughter Jane McMullan (second from right) and UGA President Jere W. Morehead (right) during a reception on July 13 following a speaking event associated with the exhibit.
Written by UGA intern Josh Mixon '19
A 62-piece set of gold coins struck at the Dahlonega Mint worth $715,000 is on display at the University of Georgia Richard B. Russell Building Special Collections Libraries. The coins were donated by alumnus John F. McMullan (BBA '58, MBA '60), who refers to himself as more of a coin "accumulator" than a collector.
McMullan collected the coins with the intention of donating them for public display and named them The Thomas Leverette McMullan Reed Creek Collection, after the Georgia region in which his father, Thomas Leverette McMullan (BSA '22), grew up.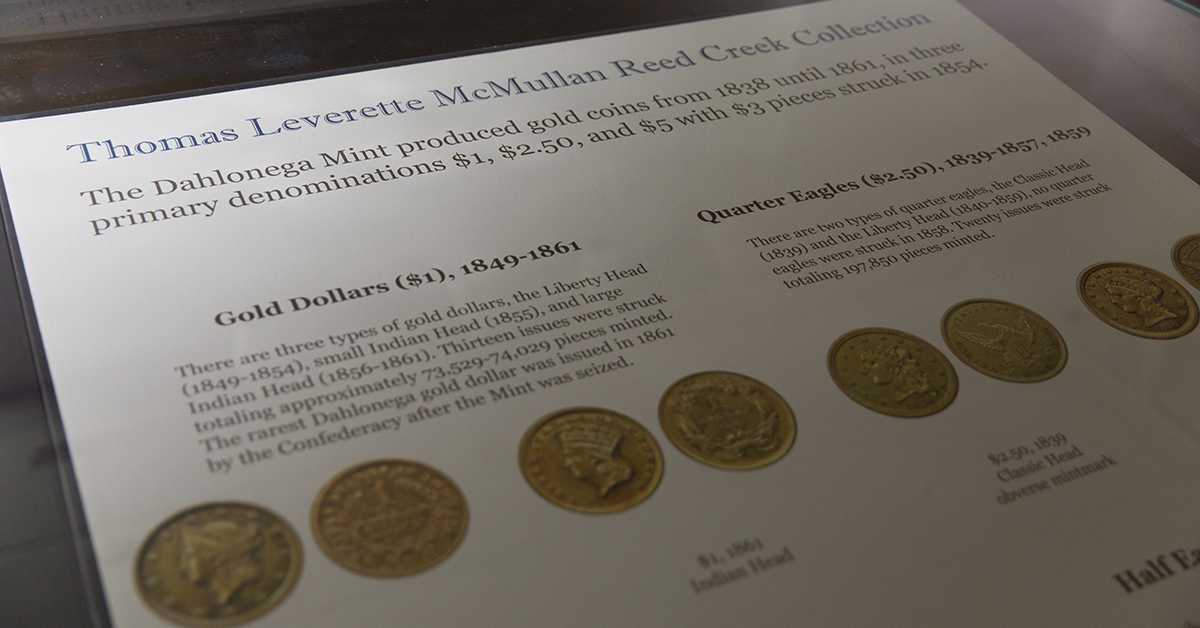 The collection is one of many generous gifts that McMullan and his wife, Marilyn, have given to UGA over the years. The McMullans were named the UGA Alumni Family of the Year in 2015 for their contributions to their alma mater.
McMullan started the collection in 2008 by purchasing an 1854-D Indian Head $3 coin. He spent years searching through thousands of coin rolls – finding one of the coins, an 1851-D half eagle, in a bank safe deposit box following his father's death in 1954.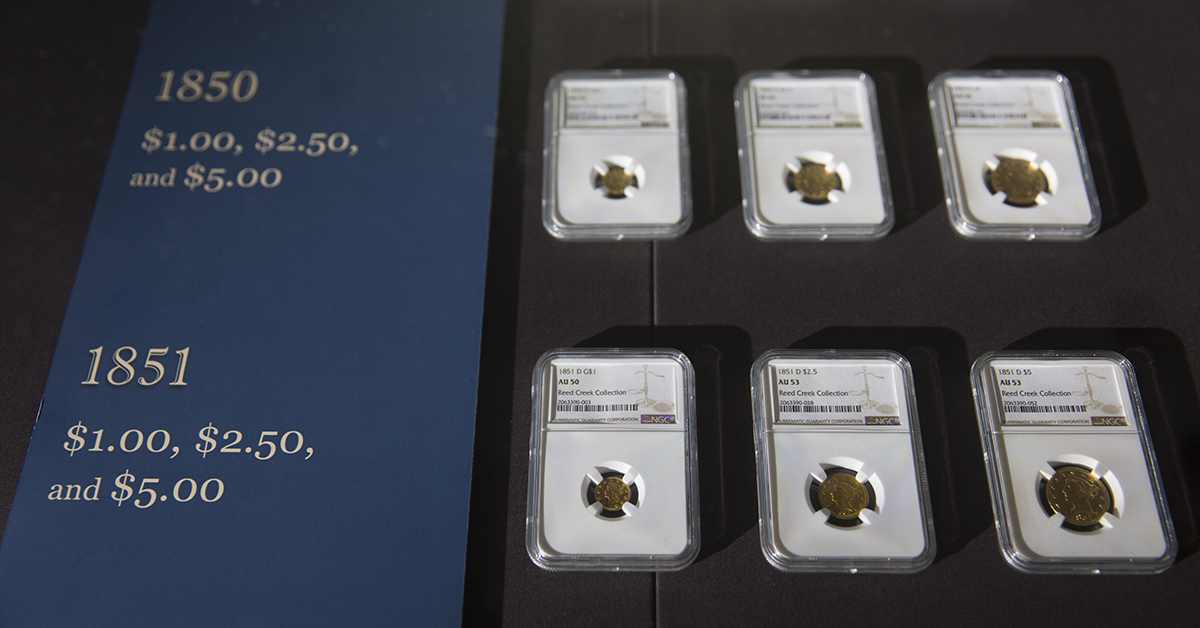 McMullan's collection is part of a larger exhibit at the Special Collections Libraries called "Gold-Digging in Georgia: America's First Gold Rush." The exhibit focuses on the history of gold mining in the United States and the lesser-known gold rushes of Georgia. The Georgia Gold Rush of the 1830s occurred many years before the more well-known 1849 Gold Rush in California.
"[The gold rush] began in 1828 and was the first major gold rush in the U.S.," said Jean Cleveland, communications director at UGA Libraries.
The exhibit, which features gold nuggets, historic maps, photographs and other artifacts, will remain on display until Dec. 5.
https://give.uga.edu/wp-content/uploads/JWD_7461_edit2.jpg
876
1600
Josh Mixon
https://give.uga.edu/wp-content/uploads/logo-campaign-uga.png
Josh Mixon
2017-09-18 15:12:49
2018-10-03 19:13:56
John McMullan Donates Dahlonega Gold Coin Collection to UGA