In Memoriam: Verner F. Chaffin
A tribute from former faculty colleague Associate Dean & Professor Emeritus Paul M. Kurtz that originally ran in the UGA School of Law magazine, The Advocate. Far below is more about Chaffin's remarkable career and personal life.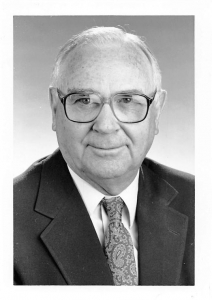 For the entire 43 years I knew Verner Chaffin, he was one of the youngest of my friends, with a twinkle in his eye and a beautiful smile. Even during his most recent years (please, not old age), he was always looking ahead. He demonstrated that when he and his wife Ethel, then aged 90 and 88 respectively, left the retirement home after a stay of about three months to return to life on their own where they could "do what they wanted to when they pleased."
Verner's ability to connect with people was his signature trait, and he made that connection through his words. Whether it was a joke told during cocktail hour, after-dinner remarks at a law school event, a CLE speech at the Estate Planning Institute or a quiet conversation in a law school office, it was always a treat to hear him talk. He was quite versatile in terms of subject matter … the law, his beloved Georgia footballers (he was, remember, a Double Dawg) or the young granddaughter he and Ethel helped raise while others his age took retirement. Most special was hearing vignettes from Verner's photographic memory. I've heard him, decades after his arrival in Athens as a UGA sophomore, recall UGA tuition in 1936. I have also heard him discuss how he and his fellow law students parked their cars on the grass in front of Peabody Hall because North Campus lacked parking lots back then.
Verner was one of that relatively small group of people who actually became legends during their own time. During my faculty years, whenever I crossed paths with a law school alum, inevitably early in the conversation the grad would inquire into Verner's well-being and ask to be remembered to him. His family will tell you how he thrilled to the chance to maintain myriad friendships with his former students. When a lithograph collage was commissioned in 1984 on the occasion of the law school's 125th "birthday," it depicted, among other images, a handful of the school's most illustrious faculty over its history. Verner, of course, was among them; that collage would have been inaccurate without him.
Before closing, let me offer some evidence to demonstrate that beneath Verner's humble, cheerful persona resided a brilliant mind. The Rule Against Perpetuities, generally recognized as property law's most arcane rule (and it has plenty of competition for that title), dates from the 17th century. Law school 1972 grad Roy Barnes tells of hiring Verner as co-counsel in a Georgia Supreme Court case involving the rule. At the hearing, Roy admitted he was not an expert on the rule, but suspected none of the justices were either. He said, "However, Dr. Chaffin is and he agrees with my position." Roy won the case.
After graduation from law school, in preparation for his work as a Naval Intelligence Officer in WWII, Verner learned Japanese. Dean Emeritus Ron Ellington reports that in order to maintain his fluency in later years, Verner took faculty minutes in that language. Just what you would do, right?
Extremely bright, but equally self-effacing. Warm, but not overbearing. Upbeat, but not a Pollyanna. That is the Verner Chaffin that I miss and will always remember.
Callaway Chair Emeritus Verner F. Chaffin (LLB '42), who served on the law school's faculty for more than 30 years, passed away April 27, 2018, just a few months shy of the age of 100. Specializing in the areas of wills, trusts, estate planning and future interests, his scholarship includes several books and innumerable articles. 
A Georgia native, Chaffin received his undergraduate degree with honors and his law degree summa cum laude from UGA. While serving as a UGA faculty member, Chaffin earned his J.S.D. from Yale University. 
Some of his honors include the American Law Institute's 50-year membership medallion, the law school's Distinguished Service Scroll Award, the State Bar of Georgia Author's Court Award for Outstanding Legal Writing and being the first recipient of the state bar's Verner F. Chaffin Career Service Award. Several law school initiatives bear his name: the Verner F. Chaffin Chair in Fiduciary Law, the Verner F. Chaffin Endowment Fund (supporting an annual award for students excelling in fiduciary law) and the Verner F. Chaffin Society (the law school's planned giving society). 
He is survived by his wife of 74 years, Ethel Tison Chaffin; daughter Ethel Chaffin Simonetti; daughter Mary Chaffin (JD '82); son V. Frank Chaffin; son John Chaffin and five grandchildren.
https://give.uga.edu/wp-content/uploads/verner-chaffin-image-1-page-001-2.jpg
424
523
Caitlyn Richtman
https://give.uga.edu/wp-content/uploads/logo-campaign-uga.png
Caitlyn Richtman
2018-09-24 17:57:25
2018-09-26 19:52:53
In Memoriam: Verner F. Chaffin