Hodgson School unveils renovated recording control room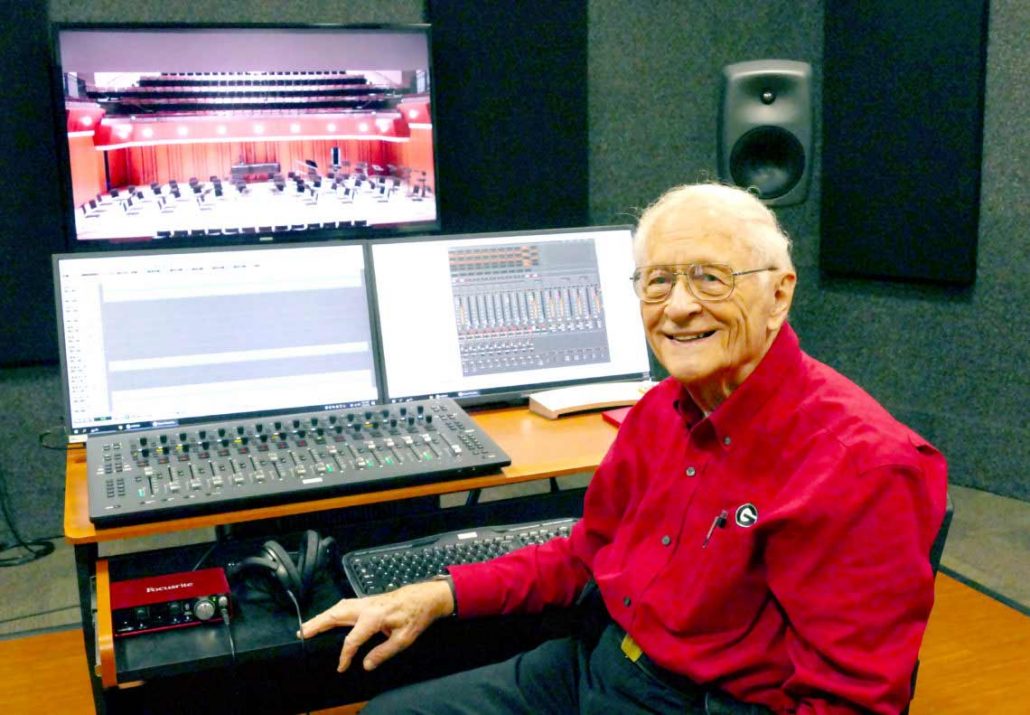 This article was originally published by UGA Today on January 29, 2018.
Writer: Jessica Luton
ROOM DEDICATED TO R. DOUGLAS MOORE, LONGTIME MUSIC PROFESSOR
A recent renovation of the recording control room at the Hugh Hodgson School of Music features improved recording quality and more opportunities for performers and engineers. The renovation features state-of-the-art upgrades and new technologies to help music students.  The improvements were made possible by a donation from the late Cora Nunnally Miller, the stepdaughter of the school's namesake, Hugh Hodgson.
Performances in the HHSOM take place in three venues—Hodgson Concert Hall, Ramsey Concert Hall and Edge Recital Hall—and are recorded in the control room. Prior to this renovation, audio engineers were able to make high-quality recordings, but the expansive analog-based recording system had remained largely unchanged since first being installed in 1995. Newly equipped with a modular digital recording system, the control room is used by faculty recording engineers Paul Griffith and William Marlow, along with students who are enrolled in Music Recording Practicum. The facility features three recording and mixing stations, each with its own live video feed of the performance in progress.
"We were operating at a high level of quality and had been for many years," said Marlow, "but we were limited by the age and capabilities of our audio infrastructure and technology. The analog equipment required constant troubleshooting and, together with the physical limitations of the room, it seemed natural to address all of these points going into the future."
With more open space in the room, students now comfortably sit alongside mentors while learning about the process of digital audio recording. The state-of-the-art equipment that was installed is used by most major symphony orchestras and top classical music recording engineers in the U.S. and abroad.
"By doing this, we actually improved the audio quality that we would have achieved with a single, large console, while also greatly increasing our flexibility," said Griffith. "Not to mention, we managed to fund our entire upgrade and room renovation at less than half the amount that a large format mixing console, alone, would have cost. We improved the quality of the work which we are able to do, while also adding a host of new capabilities which have greatly enhanced both the end results as well as the ways in which we can achieve them."
The room has been renamed the R. Douglas Moore Recording Control Room to show appreciation for longtime HHSOM recording engineer and faculty member R. Douglas Moore.
With the renovation complete, the room has been renamed the R. Douglas Moore Recording Control Room to show appreciation for longtime HHSOM recording engineer and faculty member R. Douglas Moore. Moore retired in 2015 after a nearly 50-year association with the school. A former Naval officer trained in the field of aviation electronics, as well as the holder of music education and musicology degrees, Moore at one time or another taught music appreciation, ran the music library, served as a maintenance liaison and had a general ability to fix or build just about any sort of device. He recorded tens of thousands of concerts and dozens of commercially released albums, dating back to involvement in some of the earliest recordings of the Redcoat Marching Band.
"Doug was the talent and creative force which first established and then enabled the recording department to succeed and flourish," said Griffith, who now holds Moore's long-time recording position at the music school.
Marlow worked with Moore for the last 10 years before his retirement. "He is an amazing musician, which translated directly to the recordings he made, but a side that many didn't experience was Doug Moore the educator. Like any good educator, he was constantly teaching. Every recording, whether a freshman student recital or a world renowned artist, was treated with the same level of professional attention and also as a learning opportunity. The redesign of the control room not only offers a cutting edge professional recording environment, but also provides an improved teaching environment which I think is especially suited to a room named in honor of Doug."
https://give.uga.edu/wp-content/uploads/Hogdsen.jpg
791
1140
Claudia Miller
https://give.uga.edu/wp-content/uploads/logo-campaign-uga.png
Claudia Miller
2018-02-12 20:58:46
2018-10-01 18:05:15
Hodgson School unveils renovated recording control room