At UGA, Camden Dukes learned to seize opportunity, and it's paid off

As her high school years came to a close, Camden Dukes had a number of college options open to her. It took some deliberation, but she ultimately decided to attend the University of Georgia. Four years later, the Decatur native is thrilled to be a Bulldog, and she will graduate this spring with a degree in advertising, a minor in design and media and a certificate in New Media.
Advertising wasn't Camden's original plan. But she was presented with an opportunity, and she took it—a scenario that came to typify her UGA experience in ways big and small.
Camden came to UGA as a graphic design student, but the results of a focus test she took at the UGA Career Center suggested that advertising would better suit her. She consulted with one of the orientation leaders, who told her if she was open to change, she should try advertising. Camden took that advice and never looked back.
Camden is a recipient of the Ann M. Mason Georgia Commitment Scholarship, created by Robert and Annette Mason in honor of their daughter Ann Mason (BFA '19). Camden met Robert Mason in 2019, and he advised her to always be open to opportunity. Hearing it a second time crystallized the advice for Camden, and since then, she's successfully seized on the many opportunities UGA—and life—presented her.
This past summer when she was unable to secure an internship due to the pandemic, she adapted and chose to become a cashier at a Kroger in her hometown. When asked how she felt about being an essential worker, she smiled and said, "I always wore a mask and gloves and was grateful to be working."
In the fall, Camden's persistence paid off, and she was able to secure an internship as a public relations associate with Blue Scorpion Reputation Management in Atlanta. Although it was remote, she learned a lot due to the company's size. It was a small organization, so she wore many hats and was able to work closely with the owner as well as clients.
Camden currently serves as an account executive for Talking Dog, a joint advertising and public relations agency housed within the Grady College of Journalism and Mass Communication. It's a highly competitive program with only 62 students chosen each year. Students work on real campaigns for real companies which enables them to add agency experience to their resumes.
Additionally, Camden has been a member of the Black Affairs Council (BAC) since her freshman year. The BAC works to preserve, enhance, examine, and celebrate Black culture at UGA. During her tenure, she served as treasurer for two years—a role she was surprised to enjoy—and currently serves as director of public relations.
"I met some of my best friends through BAC," said Camden. "I'll be staying in touch with these people long after graduation."
In April, Camden was recognized as part of the 2021 Multicultural Advertising Internship Program Fellows (MAIP). Every year, the American Association of Advertising Agencies selects college students from across the country to be chosen for MAIP. MAIP Fellows have the opportunity to network with their cohort, learn from industry professionals, and gain skills and experience for their post-graduate endeavors. Through the fellowship, Camden will be working this summer with an agency based in Charlotte.
After graduation, Camden's goal is to work at an advertising agency in Atlanta, but she is open to other cities as well. She continues to be open to opportunities, wherever they may lead.
As she looks back on her time at UGA, Camden recalls her favorite campus memory as a night not so long ago that many likely remember.
"That would definitely be the UGA vs. Notre Dame game in Sanford Stadium. I have never experienced that kind of energy before, and I felt so proud to be a Bulldog."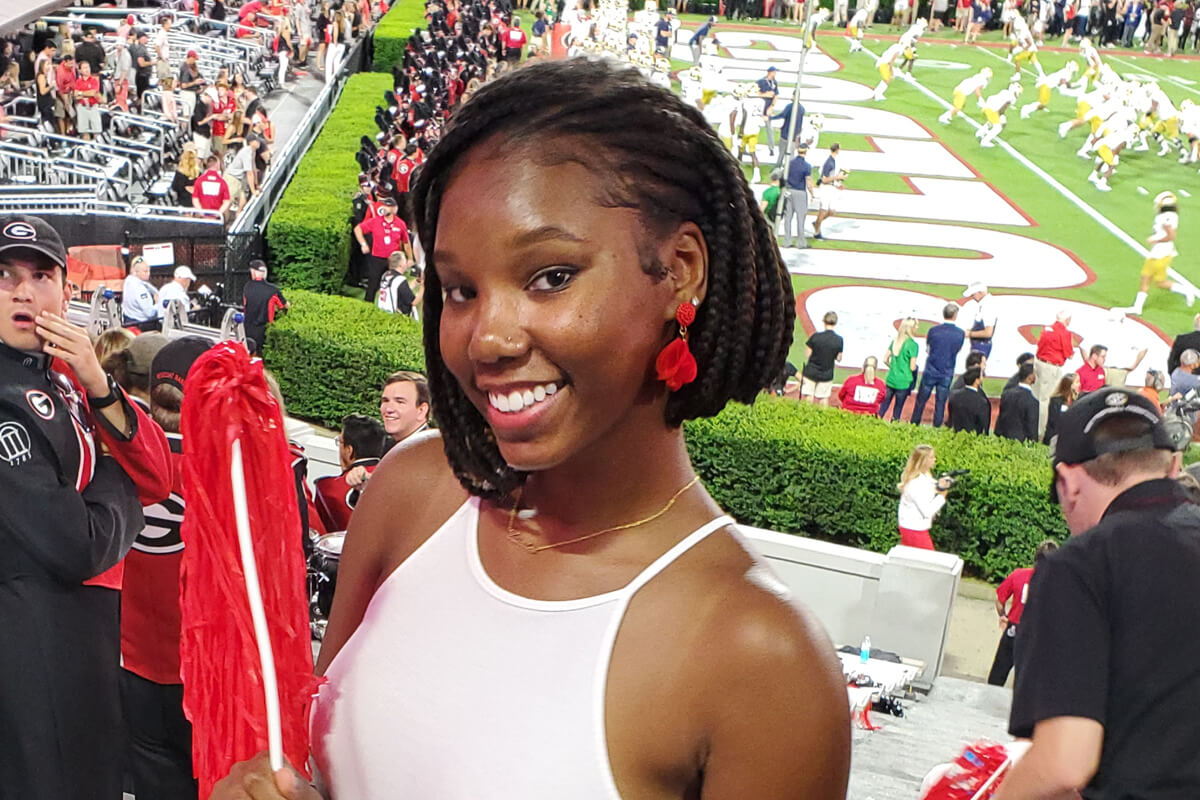 https://give.uga.edu/wp-content/uploads/FeatImg-2021-CamdenDukes-V2.jpeg
423
1220
Clarke Schwabe
https://give.uga.edu/wp-content/uploads/logo-campaign-uga.png
Clarke Schwabe
2021-05-24 09:00:34
2021-05-19 10:14:50
At UGA, Camden Dukes learned to seize opportunity, and it's paid off