ABC News correspondent Deborah Roberts pledges $100K to University of Georgia
Originally posted on UGA Today on April 24, 2018.
Athens, Ga. – Award-winning correspondent and University of Georgia alumna Deborah Roberts has committed $100,000, matched by the UGA Foundation, to establish a need-based scholarship through the Georgia Commitment Scholarship Program.
"We are thrilled that such a distinguished alumna has committed to supporting need-based aid at UGA," said President Jere W. Morehead. "Her generosity is an example of the tremendous alumni support that continues to move our university into the future. Deborah's gift will open the door to higher education for students today, tomorrow and in perpetuity."
Roberts has risen through the ranks of television news, received numerous awards and been a regular reporter and contributor for programs such as "Dateline NBC," "20/20," "Nightline" and "Good Morning America" to name a few.
"I feel honored, privileged and, indeed, blessed to be able to offer a student who's dreaming of success the opportunity to make those dreams come true," said Roberts. "Growing up in small-town Georgia, I know the value of education and embrace this opportunity to change lives and futures."
Roberts' scholarship will provide aid to graduates of Perry High School, which she attended, as well as other high schools in middle Georgia.
Through the Georgia Commitment Scholarship Program, the UGA Foundation matches—dollar for dollar—any gift in the amount of $50,000, $75,000 or $100,000 to establish an endowed, need-based scholarship for undergraduate students. The scholarship is awarded within a year of the donor making their gift, and from that point forward, the endowment grows—increasing the size of the scholarship award over time and helping student after student earn a UGA degree.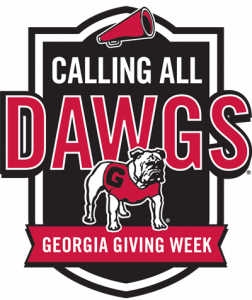 Since the matching program's creation in 2017, over $54 million has been dedicated to new need-based scholarships, with over 265 donors giving to the program. Scholarship recipients also benefit from academic support in the form of tutoring, workshops, academic coaching and more.
Born in Perry, Georgia, Roberts began her post-UGA career at WTVM-TV in Columbus, Georgia, and her connection to the university has remained through her many positions since then. In 1993, she received the Grady College of Journalism and Mass Communication's John E. Drewry Young Alumni Award, presented annually to high-achieving young alumni.
In 2006, Roberts delivered UGA's Holmes-Hunter lecture, and in 2016 she presented an Alumni Seminar. Earlier this year, she participated in a panel discussion entitled "Grady Greats: A Conversation on the Enduring Values and Power of Journalism." She will deliver UGA's spring undergraduate Commencement address on May 10.
As a major component of the Commit to Georgia Campaign's effort to remove barriers for students, the Georgia Commitment Scholarship Program has been a critical element of UGA's fundraising success over the past two years. To find out how you can contribute to that success, visit give.uga.edu/georgia-commitment.
https://give.uga.edu/wp-content/uploads/deborah-roberts-1.jpg
3000
5400
Clarke Schwabe
https://give.uga.edu/wp-content/uploads/logo-campaign-uga.png
Clarke Schwabe
2019-04-25 15:55:44
2019-04-25 16:10:59
ABC News correspondent Deborah Roberts pledges $100K to University of Georgia