University of Georgia Board of Visitors welcomes new members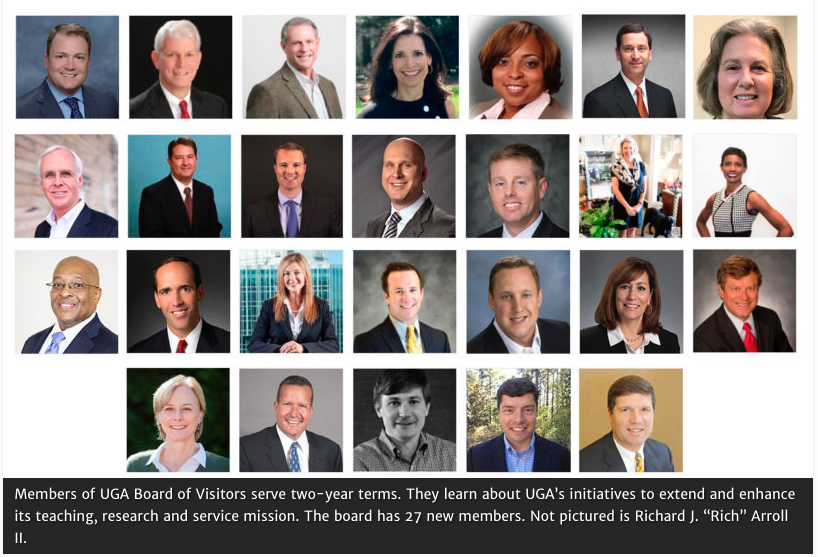 The University of Georgia Board of Visitors welcomed 27 new members on July 1.
Established in 2010 by the UGA Foundation Board of Trustees, the Board of Visitors comprises business, government and community leaders who serve as advocates for UGA. Members help increase awareness about the university's accomplishments, priorities, and its $5.7 billion impact on the state of Georgia.
"The Board of Visitors plays a special role in advancing the mission of the University of Georgia," said President Jere W. Morehead. "I appreciate the commitment of our new board members to supporting the vital work of our faculty, staff, and students."
The new members joining the Board of Visitors Class of 2018-2020, in alphabetical order, include:
Richard J. "Rich" Arroll II, Atlanta, Georgia, partner, Major & Arroll LLC, a commercial real estate company
Matthew P. "Matt" Brigham, Roswell, Georgia, assistant vice president and assistant treasurer, Genuine Parts Co.
Remer Y. Brinson III, Augusta, Georgia, president, State Bank and Trust Co.
Charlie Broussard, Athens, Georgia, national account manager, Merck Animal Health
Tammie Brown, Brookhaven, Georgia, philanthropist
LeRoya Chester Jennings, Atlanta, Georgia, trial attorney and founder, Chester Jennings & Smith LLC
James G. "Guyton" Cochran Jr., Carrollton, Georgia, executive vice president and chief financial officer, Southwire Co.
Elizabeth R. Cook, Columbus, Georgia, senior associate general counsel, Total System Services Inc.
Robert L. "Bob" Crutchfield, Atlanta, Georgia, managing director, American Cancer Society's BrightEdge Venture Fund
John F. "Freeman" Elliott, Newnan, Georgia, president, Orkin Pest Control
Paul A. "Paton" Faletti Jr., Atlanta, Georgia, president and CEO, NCM Associates
Jonathan B. Gibson, Mooresville, North Carolina, vice president of marketing and communications, Penske Racing
Cort A. Haber, Brookhaven, Georgia, principal, Haber Investment Counsel
Rachel R. "Row" Henson, Atlanta, Georgia, retired fellow, Peoplesoft and best-selling author
Dominique I.H. Holloman, chief of staff, Representative William K. Boddie Jr., Georgia House District 62
James C. Jackson, Charlotte, North Carolina, former regional president and retail banking executive, Bank of America and Capital One
James C. "Jamie" McCurry, Savannah, Georgia, chief administrative officer, Georgia Ports Authority
Mary Elizabeth Waddell Sadd, Johns Creek, Georgia, senior client partner, Korn/Ferry International
Steven L. "Steve" Sanders, Augusta, Georgia, partner, Fulcher Hagler LLP
Brian E. Satisky, Atlanta, Georgia, owner, Steel Mart Inc.
Jodi Selvey, Atlanta, Georgia, senior vice president, principal, market leader office occupier services, Colliers International
Ronal T. "Todd" Shutley, Brookhaven, Georgia, executive vice president, SunTrust Bank
C. Diane Smock, Greenville, South Carolina, retired judge
Timothy N. "Neil" Stevens, Athens, Georgia, president and CEO, Oconee State Bank
Charles B. "Charlie" Thompson, Atlanta, Georgia, founder, ASW Distillery
Andres C. Villegas, Forsyth, Georgia, president and CEO, Georgia Forestry Association
Wiley A. Wasden III, Savannah, Georgia, managing partner, Brennan Wasden & Painter LLC
"We are proud to welcome this impressive group to the Board of Visitors," said Neal Quirk, chair of the UGA Foundation Board of Trustees' nominating and trusteeship committee. "As prominent leaders in their fields, they have a unique ability to use their voices to advocate for what they believe in. We are truly lucky that they have chosen the University of Georgia as one of their causes to champion.
"As members, they will have opportunities to interact with university adminstrators and, most importantly, students. Hearing firsthand how UGA has impacted the lives of young people and shaped their futures is paramount to garnering more support for this university. I know that our new and existing members will help spread the word about the power of a UGA education — not only on an individual's life but also on communities across our state and globe."
During Board of Visitors members' two-year terms, they learn about UGA's initiatives to extend and enhance its teaching, research and service mission. Recent program topics have centered on UGA's entrepreneurship program, increased mentorship opportunities and the UGA Small Satellite Research Laboratory.
Nominations for new members are accepted at any time during the year.
https://give.uga.edu/wp-content/uploads/Screen-Shot-2018-07-25-at-12.38.34-PM.png
557
818
Alvieann Chandler
https://give.uga.edu/wp-content/uploads/logo-campaign-uga.png
Alvieann Chandler
2018-07-16 20:32:54
2018-09-26 20:08:16
University of Georgia Board of Visitors welcomes new members