Regions Bank pledges $500,000 to UGA for service-learning, small business aid

Photo: Students help with an Institute for Leadership Advancement service project in 2017
Staying true to its vision to be an institution "deeply embedded in its communities," Regions Bank has pledged $500,000 to the University of Georgia to impact communities around the state of Georgia.
"The educational and economic impacts of the University of Georgia reach throughout the state, the nation and even the world," said John Turner, President and CEO of Regions Financial Corp. "At Regions Bank, we are proud to be part of these important programs, which will serve as valuable resources for entrepreneurs looking to start or strengthen businesses – and for students who are learning the important qualities needed to serve as tomorrow's leaders."
Through Regions Bank's financial support, the Institute for Leadership Advancement (ILA) in the Terry College of Business will receive $300,000 to endow a fellowship program for service-learning projects across the state. ILA provides unique, values-based leadership training for students in all majors that promotes self-awareness, effective communication, teamwork, innovation and adaptability in a changing global environment.
"The Regions Bank Service-Learning Projects Fund will offer our students new possibilities to put their leadership skills into action and provide valuable community service in creative ways," said Benjamin C. Ayers, dean of the Terry College of Business. "The University of Georgia is a national leader in experiential learning, and this gift from Regions Bank will make a meaningful difference for our students and the communities where they volunteer and serve."
In addition to Regions Bank's contribution to ILA, the company has made a $200,000 commitment to small businesses across Georgia through its gift to the Small Business Development Center (SBDC).
"Education and economic development are two key priorities for the bank's community engagement," said Bill Linginfelter, Metro Atlanta Market Executive for Regions Bank. "Through the Small Business Development Center and the Institute for Leadership Advancement, Regions Bank is providing resources to help create long-term success, not only for students and businesses, but also for the communities they will serve."
As part of UGA's Public Service and Outreach, the SBDC provides tools, training and resources to help small businesses grow and succeed. SBDC programming provides a unique opportunity to support small business owners in the state of Georgia. There are 18 UGA SBDC locations statewide.
"We are grateful for Regions Bank's generosity in providing this funding, which will help small- business owners in many underserved areas, as well as in our urban communities," said Jennifer L. Frum, vice president for UGA Public Service and Outreach. "The spirit of this gift is directly in line with our mission as a land-grant and sea-grant institution, and we welcome the community partnership."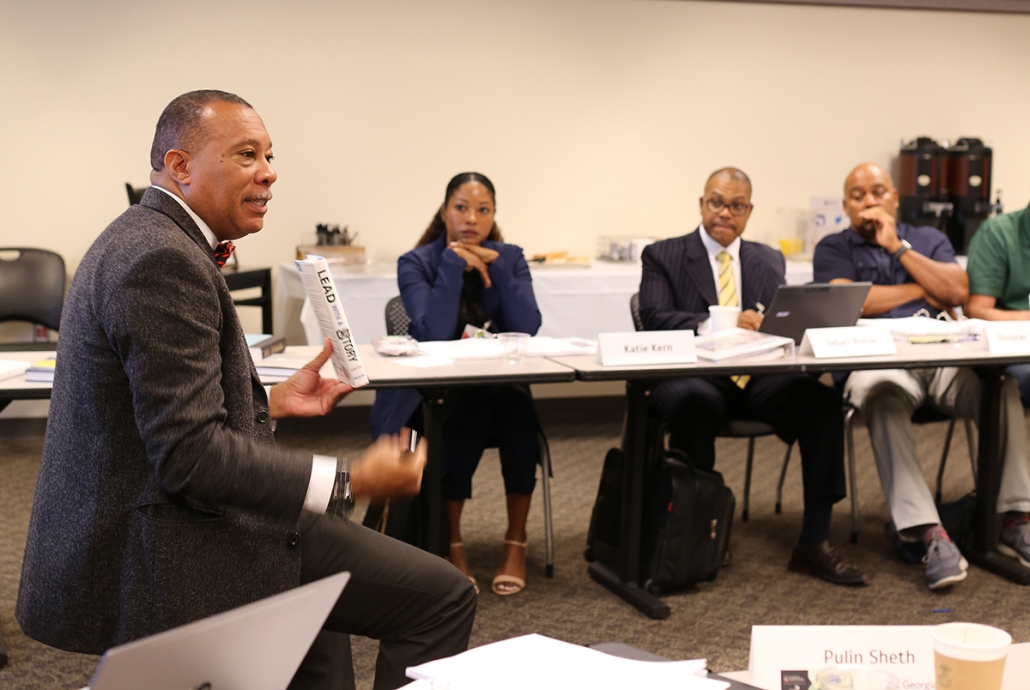 Photo: Eric Bonaparte, UGA SBDC program facilitator, at a continuing education program in Atlanta in 2019
Through the SBDC, Regions Bank will support the Regions Bank Entrepreneurship Academy this fall, which will feature a series of webinars open to the public at no cost. The SBDC and Regions Bank are ideal community partners: two respected organizations that share a commitment to the success of businesses and economic development throughout the state of Georgia.
"Regions Bank is helping the UGA SBDC provide needed information and training to small business owners and prospective entrepreneurs throughout Georgia beyond our ordinary reach," said Allan Adams, State Director, SBDC. "The better equipped these business owners are to make sound decisions for the growth of their enterprises, the better off local economies will be across the state."
The University of Georgia is grateful to Regions Bank for their demonstrated commitment to the university, its programs and the state of Georgia.
https://give.uga.edu/wp-content/uploads/FeatImg-2020-RegionsGift-V1.jpg
423
1220
Clarke Schwabe
https://give.uga.edu/wp-content/uploads/logo-campaign-uga.png
Clarke Schwabe
2020-09-29 06:56:25
2023-09-18 13:21:32
Regions Bank pledges $500,000 to UGA for service-learning, small business aid