Redcoat Marching Band Honors Southern Rock Legend Gregg Allman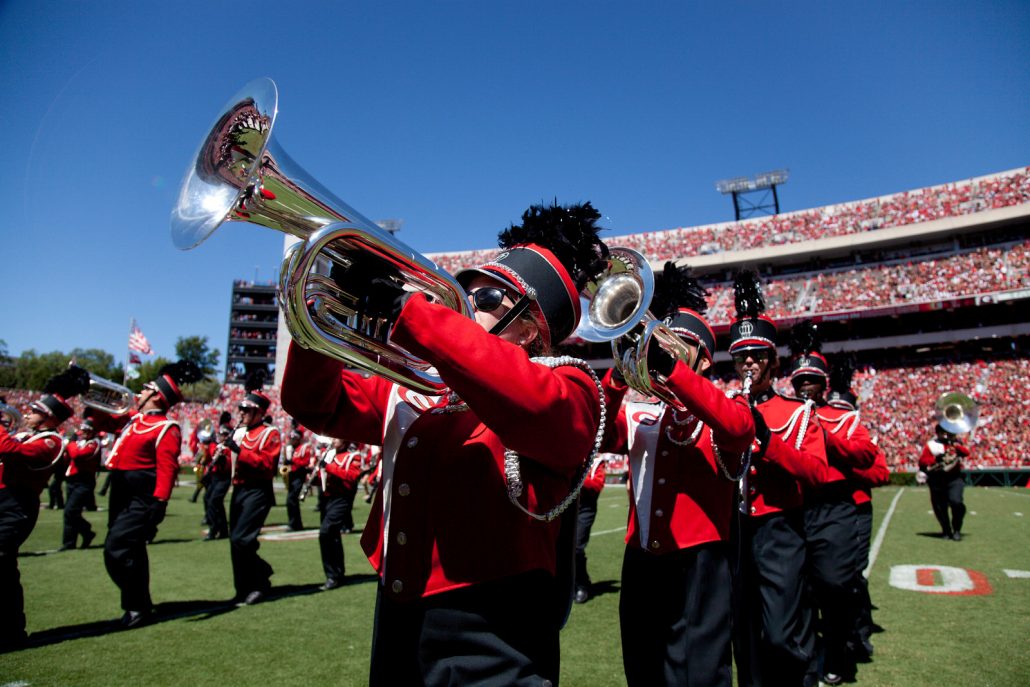 Written by Joshua Mixon '19
ATHENS – The University of Georgia's Redcoat Marching Band honored the late Gregg Allman, iconic southern rock artist, at halftime of UGA's 24-10 win over South Carolina in November. The singer-songwriter was a supporter of UGA's Hugh Hodgson School of Music. You can watch the Redcoats' tribute performance in its entirety here.
Allman, who passed away in May 2017, fronted his band, The Allman Brothers, for 45 years. The band first reached the Billboard 200 albums chart in 1970 and topped the list once, with Brothers and Sisters in 1973.
Allman was recognized for his soulful voice and was widely referred to as a southern rock pioneer. Throughout his career, he received numerous awards, including one Grammy. His band was inducted into the Rock and Roll Hall of Fame in 1995 and Allman himself was inducted into the Georgia Music Hall of Fame in 2016.
Allman established the Gregg Allman Scholarship Fund at UGA in 2015. The scholarship was the result of a successful Gregg Allman tribute concert at the Fox Theatre in January 2014. Allman and band manager Michael Lehman decided to use the event's proceeds to benefit the future of music at Syracuse University, where Lehman's daughter was a student, and the University of Georgia, a place near and dear to Allman.
"When I first started playing music, I played for myself," Allman said prior to his 2015 performance at the Georgia Theatre. "Meaning that I played to feed the appetite for knowledge. I wanted to play because I wanted to play and learn. But later on you realize that you can do things for other people while just doing what you love to do. And why not pay it forward?"
Scholarships for students in the arts are increasingly important, and the Gregg Allman Scholarship Fund eases the financial burden for music majors seeking careers in the music industry. Recipients of the scholarship were recognized during the Redcoats' halftime show.
"For students seeking a career in the arts, in music, finding scholarship support can be the very key that unlocks the gate of opportunity," said Dale Monson, director of the Hodgson School. "Music is such an intense and demanding major, and scholarship support helps our students focus on the skills and coursework that lead to a productive career. [Allman's] interest in our educational efforts [have brought] opportunities to generations of deserving students, and we are enormously grateful."
https://give.uga.edu/wp-content/uploads/27057-018-X3.jpg
1067
1600
Josh Mixon
https://give.uga.edu/wp-content/uploads/logo-campaign-uga.png
Josh Mixon
2017-11-27 16:02:28
2018-01-11 20:55:33
Redcoat Marching Band Honors Southern Rock Legend Gregg Allman