Phase II of Terry's Business Learning Community Opens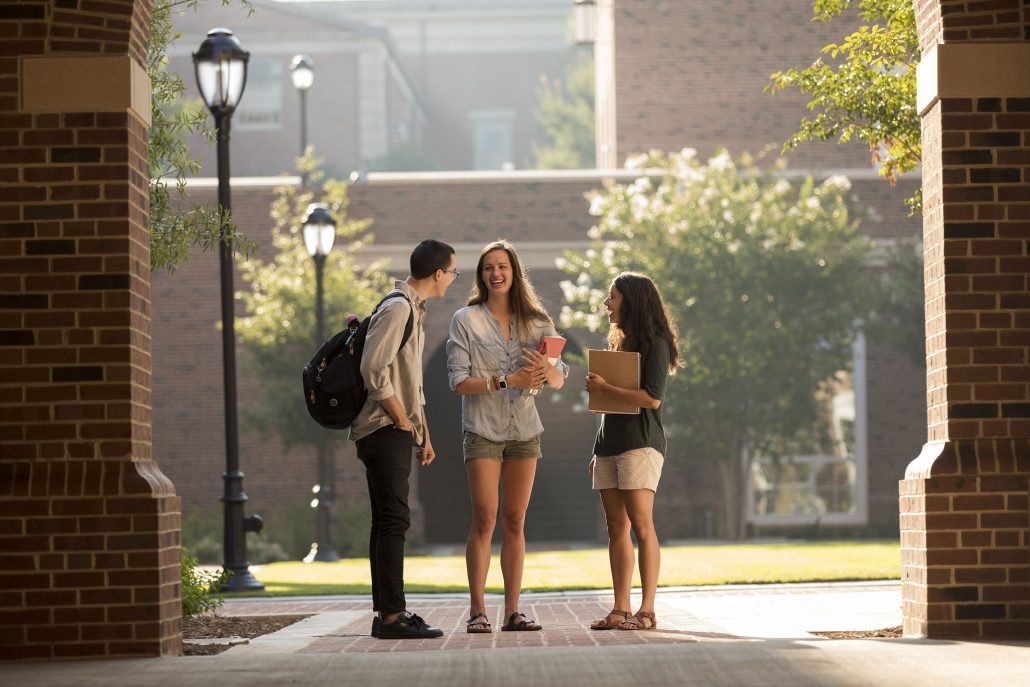 This article originally appeared on terry.uga.edu. 
The murmur of excited conversations filled Amos Hall on the first day of fall semester classes at the Terry College of Business. As students, faculty and staff greeted each other in Casey Commons following the summer break, one subject kept coming up: Terry's new buildings.
"I feel like I'm in Hogwarts, walking up these stairs and past the courtyard," said Chase Shy, a senior MIS major, referring to the mythical wizarding school from the Harry Potter books.
The recently opened second phase of the Business Learning Community is composed of three adjoining buildings: Amos, Benson and Moore-Rooker halls. Named for Terry alumni and supporters, the buildings house the college's faculty and provide space for classrooms, undergraduate programs and academic support services.
Phase II construction was the result of a public-private partnership that combined significant donor support and state funds totaling $63 million. The university broke ground on Phase II in 2015 at the same time that Correll Hall was dedicated. Correll Hall was completely funded through private contributions, totaling $35 million.
"It's amazing to see all of the hard work and years of planning become a reality," said Dean Benjamin C. Ayers. "It's already evident that the Business Learning Community will have an enduring impact on Terry students, who will go on to achieve truly remarkable things as a result of their education here."
Wide-eyed students strolled into the new space near the center of campus in search of a classroom only to spot the Au Bon Pain bakery in the Rothenberger Café and dash in for coffee or a snack before resuming their search.
"Everybody has liked the space and has been loving the atmosphere here," said Trevor Devine, one of several Terry student ambassadors posted around the buildings to help students navigate the new complex on the first day of classes. "The buildings are new to everyone — even us — so we're all getting to know it together. It's been a lot of fun to see."
A grass courtyard and overlooking mezzanine connect the new buildings to Correll Hall, the first phase of Business Learning Community construction, which opened in 2015. Thanks to a consistent Neo-Georgian style, all elements of the new business school feel interconnected.
"I like how it fits in well with the rest of campus," said economics professor William Lastrapes over lunch in the commons. "There are some very nice design features that make a big difference. It's also nice to have an office in the same building where I teach."
Encompassing 140,000 gross square feet, the Phase II buildings feature two large auditoriums, eight classrooms, a capital markets lab, a music business lab, a café and an undergraduate commons with a south‑facing veranda. The upper floors house faculty and staff from all seven academic departments, project team rooms and conference rooms.
Taken as a whole, the Business Learning Community is transforming the Terry College of Business by creating an inviting learning environment where students gather, study, work on projects, interact with faculty inside and outside the classroom, and network with alumni and employers.
And, if the first day is any indication, it's also creating some campus buzz.
"I have a class here, and I take people by when I lead tours," said Madeline Lee, a Terry ambassador majoring in risk management and insurance. "There are computers inside the desks and their screens pop up when you push them. They're always excited to see that."
A dedication of Amos Hall, Benson Hall and Moore-Rooker Hall is set for Sept. 15, with a groundbreaking ceremony for the third and final phase of Business Learning Community construction to follow on the same day.
https://give.uga.edu/wp-content/uploads/p2_8.jpg
1493
2240
Josh Mixon
https://give.uga.edu/wp-content/uploads/logo-campaign-uga.png
Josh Mixon
2017-08-31 18:03:38
2018-10-03 19:21:13
Phase II of Terry's Business Learning Community Opens