Isakson gift caps $4.5 million fundraising effort for Parkinson's research chair

The University of Georgia's campaign to create the John H. "Johnny" Isakson Chair for Parkinson's Research and Georgia Research Alliance (GRA) Eminent Scholar position reached its goal of $4.5 million in private commitments, and the final contributor was the former U.S. Senator for whom the chair is named.
"We are deeply honored that Senator Isakson has made this commitment to the university. His decades of service to our state and nation and his support of UGA and higher education inspired this entire effort," said UGA President Jere W. Morehead. "We also are very grateful for the generous gifts from additional individuals and organizations that are supporting this endowed position."
The Isakson Chair and GRA Eminent Scholar position will help UGA attract a leading authority on brain disorders—with an emphasis on Parkinson's, with which Isakson was diagnosed in 2015—to engage in teaching, research and public service. Fundraising for the chair attracted a variety of donors including individuals, businesses, foundations and more.
"I'm very proud to play a part in this effort," said Isakson. "Of course, I'm honored that this position would carry my name, but more than anything, I am glad to see so many willing to give so much for this important cause. My deepest gratitude goes out to everyone who gave."
A major supporter of the Isakson Chair and GRA Eminent Scholar position is the Georgia Research Alliance. GRA grows Georgia's economy by expanding university research capacity and seeding and shaping startup companies around inventions and discoveries. UGA currently has 18 GRA Eminent Scholars on faculty, and a 19th is set to join the university in fall 2021.
The Isakson Chair and GRA Eminent Scholar will also be the director of UGA's forthcoming Center for Brain Science and Neurological Disorders. Fundraising efforts are underway for the center, which will leverage UGA's broad, comprehensive strengths to create an interdisciplinary program that will expand opportunities for collaborative and innovative solutions.
"I think the supporters of both the Isakson Chair and GRA Eminent Scholar and this new center understand the unique position UGA occupies and the potential for great work that comes with that," said Kelly Kerner, vice president for development and alumni relations. "It's very exciting, seeing these things come together and knowing that all the great work to come will honor a great man."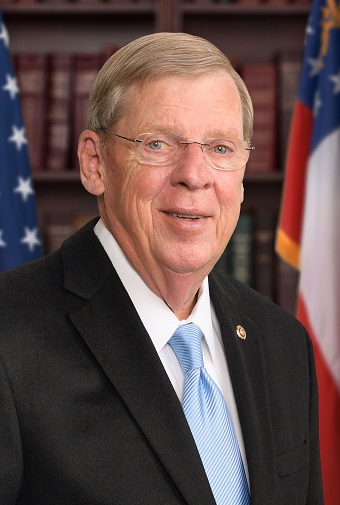 Isakson graduated from UGA in 1966 with a Bachelor of Business Administration in real estate. He met his future wife, Dianne (BSED '68), while both were UGA students, and they married in 1968. The year prior, he began working for Atlanta real estate firm Northside Realty, eventually serving as its president from 1979 to 1999.
His political career began in 1976, when he was elected to the first of seven terms in the Georgia House of Representatives. He was Republican minority leader in the Georgia House from 1983 to 1990. In 1993, he was elected to the Georgia State Senate, serving there until he was appointed chair of the state Board of Education by Gov. Zell Miller in 1996.
Isakson was elected to the U.S. House of Representatives in 1999 and served as a U.S. representative until he was elected to the U.S. Senate in 2004. He was reelected to the U.S. Senate in 2010 and 2016. Among his duties in the U.S. Senate, he served as chair of the Committee on Veterans Affairs and chair of the Select Committee on Ethics.
After his 2015 diagnosis with Parkinson's, Isakson continued to work in public service until his health compelled him to resign from the Senate on Dec. 31, 2019. In 2017, Isakson received the Fox Foundation's Parkinson's Advocacy Award for his work to improve the lives of people living with the disease and for his advocacy in funding new treatments.
https://give.uga.edu/wp-content/uploads/FeatImg-2021-IsaksonChair-V1.jpg
423
1220
Clarke Schwabe
https://give.uga.edu/wp-content/uploads/logo-campaign-uga.png
Clarke Schwabe
2021-02-24 11:08:56
2021-02-24 11:08:56
Isakson gift caps $4.5 million fundraising effort for Parkinson's research chair