Graduation speaker creates scholarship to help others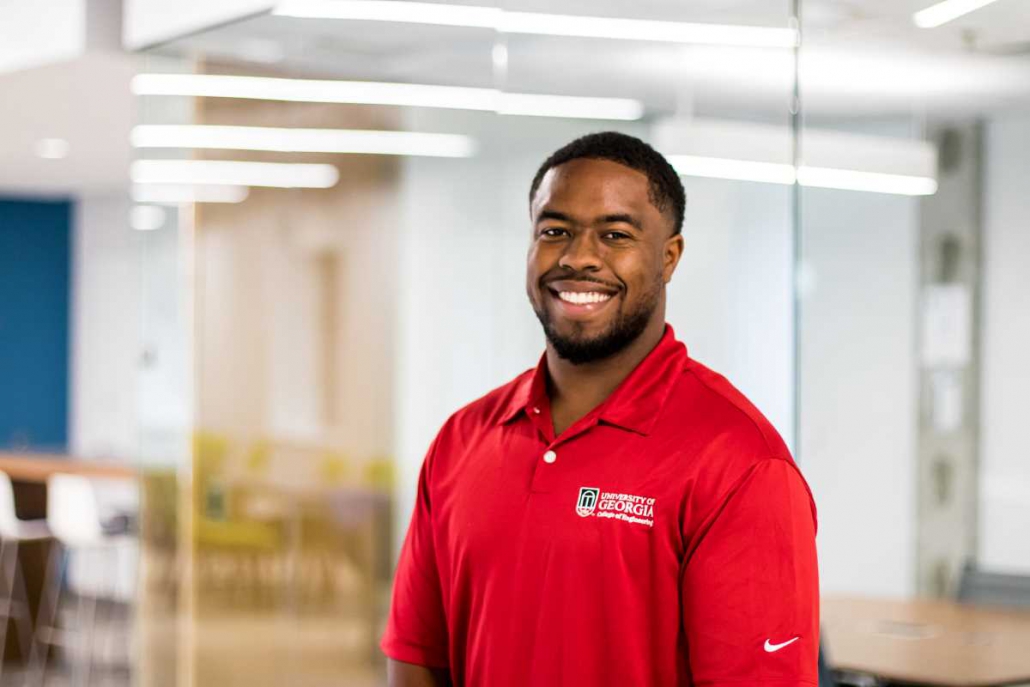 This piece was written by Sara Freeland and was originally posted to UGA Today on April 30, 2020.
Jack Bush wanted to leave his mark at the University of Georgia.
Not content to just be a College of Engineering ambassador and member of the 2018 Homecoming court, Bush had more in mind.
In fall 2019, Bush, who will be a spring Commencement speaker, gave out the first Bush Engineering Scholarship for minorities interested in engineering.
"I really wanted to make an impact," he said. "I want to help future students who are really interested in engineering and may not have the financial means to do it."
He started this with his own hard-earned money—earned from engineering internships, an engineering co-op and part-time jobs in retail. He has pledged to endow his scholarship after he graduates.
Bush, the son of a truck driver and a nurse, has put himself through school, working more than 20 hours per week while carrying a full course load. He had no other scholarships besides the HOPE Scholarship.
He got the idea on long drives back to his hometown of Savannah. He kept thinking about how to make a difference. He had the idea in the fall and saved his money and turned in the paperwork in the spring of his fourth year at UGA.
"I'm a pretty definitive person. When I set my mind on something I go after it and do it," Bush said.
The scholarship was first awarded that fall. It was one his proudest moments at UGA.
His other proudest moment was walking on the Sanford Stadium field with his mother as part of the Homecoming court, representing the College of Engineering.
It was a proud moment for his family—and part sibling rivalry. His older sister, Sydnee, also attended UGA and excelled. For Bush, "coming to UGA was following in her footsteps, but she left big shoes to fill." Stepping on that field for Homecoming signified his own success at UGA.
Student Commencement speaker
Bush will be UGA's spring 2020 student Commencement speaker at the tentatively scheduled Oct. 16 undergraduate ceremony. He will speak on hard work, growth and excelling inside and outside the classroom. He said one of the most important lessons he learned at UGA was that he was just an "average Dawg."
"I'm just an average Dawg that majored in mechanical engineering while working 20-plus hours per week and still found time to make lifelong friends. An average Dawg who was a part of the National Society of Black Engineers while simultaneously becoming a first-generation engineer. An average Dawg who enjoyed Snellebrations and the sound of the bell. An average Dawg who stressed about that fluid mechanics exam but still attacked the day and came out on top," he said. "Because the average UGA student aspires to excel, forge paths and be influential in the world around them."
Plans post graduation
After completing coursework this spring, Bush has a job lined up as automation engineer with Gulfstream in Savannah. There, he'll be working on small- and large-scale robotics, machine implementations and software development for manufacturing processes. His job will be making highly repetitive processes more automated.
He will be graduating with 34 months of work experience. He's learned 3D computer-aided design, software development and coding.
What he's taken away from that experience is "understanding how we as engineers are going to design future systems—airplanes, trucks, cars. … How do we move to that next level, that next phase, in technology?"
Engineering
Bush knew he wanted to be an engineer in sixth grade. He always enjoyed taking apart remote controlled cars and seeing how they worked. Putting them back together was another matter, and eventually he learned not to disassemble cars without having the right tools.
He'd always been interested in aerospace engineering, which UGA doesn't offer. But as a huge Bulldogs fan, Bush bled red and black and had to come to UGA. During his freshman year, he did research with a senior capstone project team in aerospace engineering. That led to a meeting with an aerospace company, where he completed five rotations as part of a co-op program—and eventually land a full-time job.
"I had every opportunity at UGA that I could have gotten anywhere else," Bush said.
But only at UGA would he have had "late night study sessions at MLC, that overtime Rose Bowl win … and becoming a member of the Victory Lap Community and the Presidents Club all in the same year."
To the Class of 2020, Bush said, "We're the next great CEOs, politicians, entrepreneurs, professional athletes, curers of terminal illnesses or advancers of technology—we've gone from average Dawgs to alumni of the greatest university in the world."
https://give.uga.edu/wp-content/uploads/jack-bush-engineering.jpg
425
1199
Elizabeth Elmore
https://give.uga.edu/wp-content/uploads/logo-campaign-uga.png
Elizabeth Elmore
2020-04-30 08:58:53
2020-04-30 08:58:53
Graduation speaker creates scholarship to help others