every day you make a difference
The University of Georgia's faculty and staff make a difference on campus each and every day. They are integral to the forward momentum of the university's mission to train the leaders of tomorrow and inspire students to make a positive impact on the world around them.
Faculty and staff see firsthand how much this important work depends on private support. Gifts from faculty and staff go directly to the areas on campus that most need financial assistance.
Find a fund at your school, college or academic unit that needs support today.
Name:
Michael Lewis

Position:
IT Support Coordinator, Geology Department; UGA Staff Council President
At UGA:
12 years
Beneficiary of gift:
Geology Fund and the Georgia Fund, both unrestricted accounts.
Why do you contribute:
Tuition, grants and state funds only cover part of the costs of our missions. The rest has to come from gifts. I had been giving to a number of charities when I became a Foundation trustee. I saw how hard both the Foundation's employees and volunteers work for this cause. With this experience, seeing what the Foundation does with gifts (both growing by investment and disbursing, not to mention soliciting), I decided to divert all of my charitable giving to UGA. It is the cause I know best. Most importantly, I get to see the people my gifts benefit every day.
Name:
Scott Pegan, Ph.D.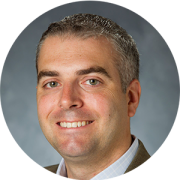 Position:
Associate Professor in the College of Pharmacy; Director of Drug Discovery Robotics Core; University Council Executive Committee Chair
At UGA:
Four years
Beneficiary of gift:
College of Pharmacy
Why do you contribute:
As a faculty member at UGA, I, like many of my colleagues, work late nights and long weekends to make UGA an institute of higher learning that can deliver unparalleled education to its students and scholarship that enlightens society. With tight budgets and limited discretionary funding, regrettably this just isn't enough in some cases. I give to support student scholarships to directly help students and show fellow benefactors of UGA that I am committed to UGA's success.