Experiential learning gave Destiny Favors the experience of a lifetime

One of Destiny Favors' most memorable UGA experiences had nothing to do with class or football or even campus: It was the first time she stepped onto a plane.
She was traveling to Sevilla, Spain for a study abroad program, utilizing experiential learning funds exclusively available to her as a Correll Scholar, and leaving the country for the first time on the first plane ride her life. After passing that milestone, she immersed herself in Spanish culture and improved her Spanish speaking skills for 7 weeks—it was a trip of a lifetime.
That trip to Spain is indicative of how Destiny has made the most of her time as a Correll Scholar at UGA. A senior from Washington, GA, majoring in finance through the Terry College of Business, Destiny was awarded her Correll Scholarship in 2018 as a second-year student.
Created by Pete and Ada Lee Correll and The Correll Family Foundation as part of the Georgia Commitment Scholarship Program, the Correll Scholars Program at UGA provides a holistic collegiate experience for scholars, including scholarship and financial support for experiential learning opportunities, unique student success workshops, and additional services provided by the Division of Academic Enhancement.
To Destiny, being a Correll Scholar means "opening opportunities that would have otherwise been closed due to financial constraints and experiencing first-hand the generosity of the UGA supporters," and she can speak from experience on both counts.
Destiny has been involved with organizations such as Women in Finance, ServeUGA, and the Institute for Leadership Advancement's Leadership Fellows Program, where she is pursuing a certificate in Personal and Organizational Leadership. And her meeting with Pete and Ada Lee in 2018 helped to deepen her understanding of their support and why they believe the collegiate experience extends beyond campus, something she would become familiar with herself.
The experiential learning support offered by the Correll Scholars Program can be used on study abroad, internship costs, or service learning. Destiny took advantage of this support for her trip to Spain, and she used it again in 2020 for what would prove to be a consequential internship.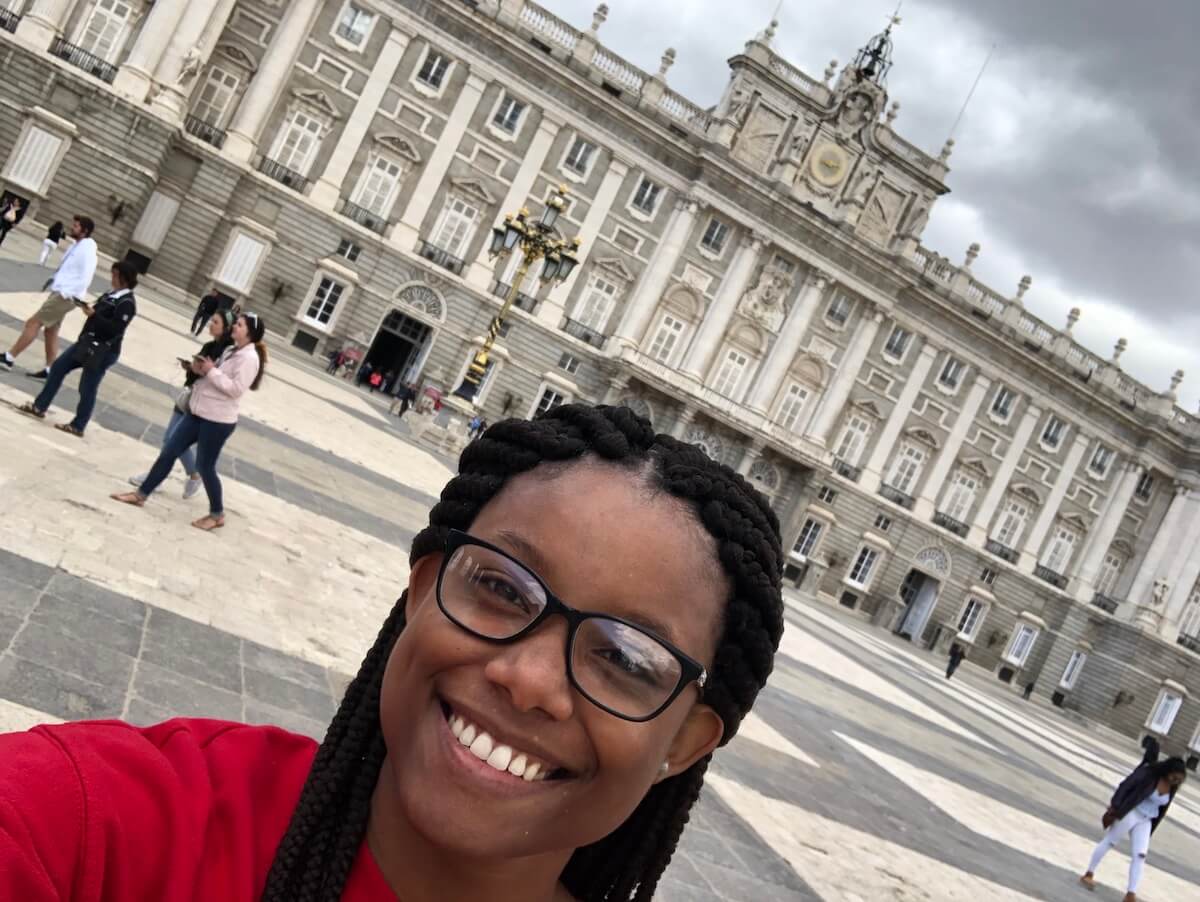 This past summer, Destiny interned at Bank of America's Charlotte, North Carolina, headquarters in the Finance Management Analyst Program. Due to the COVID-19 pandemic, it became an online internship, but it was still an important opportunity for Destiny to learn more about the culture of the company and experience her first finance internship. She credits the challenging courses at Terry College for helping her prepare for the robust program.
Through the internship, Destiny gained real-world knowledge that has become invaluable as she prepares for graduation this spring. The experience also helped considerably with her post-graduation planning: After the internship, she was offered and accepted a full-time position at Bank of America in the Finance Management Analyst Program.
Destiny's college experience was significantly impacted by the generosity of the Corrells. The family's creation of the Correll Scholars Program has inspired her to help others and give back to the community. Destiny hopes to one day be able to help students achieve their goals like the Correll family helped her.
https://give.uga.edu/wp-content/uploads/FeatImg-2021-DestinyFavorsProfile-V1.jpg
423
1220
Clarke Schwabe
https://give.uga.edu/wp-content/uploads/logo-campaign-uga.png
Clarke Schwabe
2021-02-15 09:57:31
2021-02-26 11:26:47
Experiential learning gave Destiny Favors the experience of a lifetime