Donated Jersey heifers produce first granddaughter calf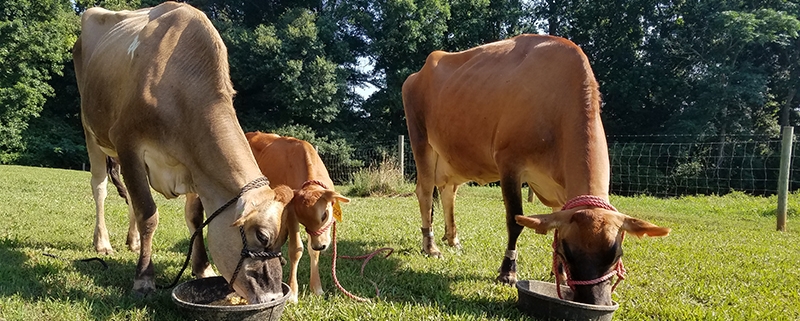 This story by Merritt Melancon was originally published on CAES website on June 22, 2018. 
BACKGROUND: C.A. Russell (BSA '85) owns Yosemite Dairy in Hilmar, California. In 2014, he donated six Jersey heifers to the UGA Teaching Dairy. The dairy is an important element of UGA's curriculum in the Animal and Dairy Science Department, allowing every undergraduate student in the program to work with live animals during their first year in the department, as well as serving as a hub for important research relating to dairy cattle. In May, the first granddaughter of that donated Jersey dairy herd was born – read more to learn how she's carrying on the legacy of Russell's generosity.
*****
First there was Herschel, then Brooks, and now there is Mary Ethel.
Mary Ethel Creswell, the calf, was born one month ago at the University of Georgia's Teaching Dairy on Georgia Highway 78, east of the university's Athens campus. She is the first granddaughter born in UGA's fledgling Jersey dairy herd and has already stolen the hearts of thousands of online followers.
"We had a naming survey on our social media page for the UGA Dairy Science Club after she was born, and we got more than 100 suggestions," said Jillian Bohlen, an assistant professor in the UGA College of Agricultural and Environmental Sciences Department of Animal and Dairy Science.
Mary Ethel's mother and grandmother were both named after noteworthy people who were involved with UGA. Suggestions for the new calf's name included Abe, in honor of UGA's first president, Abraham Baldwin; Tate, in honor of UGA's former dean of men William Tate; and Bee, in honor of former Georgia Gov. and Sen. Richard B. Russell Jr.
"We decided to go for a strong female representative of the University of Georgia," Bohlen said. "Mary Ethel Creswell was not only the first dean of the UGA College of Family and Consumer Sciences (FACS), she was also the first woman to graduate from UGA with a bachelor's degree."
The name is especially fitting in 2018 because FACS celebrates its centennial this year.
Mary Ethel is special, not just because of her groundbreaking namesake, but because she represents a milestone for the Department of Animal and Dairy Science, Bohlen explained.
In 2014, CAES alumnus C.A. Russell, who owns the 2,300-head Yosemite Dairy in Hilmar, California, donated six well-pedigreed, 9-month-old Jersey heifers to the UGA Teaching Dairy. They were the first Jersey cows at the dairy in four decades.
Jerseys are smaller and produce less milk than Holsteins, but they are known for producing creamier milk with more milk fat, which is perfect for making cheese, butter and ice cream.
The golden-brown cows are also just fun to work with, Bohlen said.
"Jerseys have a unique personality all their own," she said. "Their small size doesn't keep them from having a big personality. They are generally more social and inquisitive than other dairy breeds. By inquisitive, I mean nosy; they are into everything."
A student herd management team — known as Jersey Active Management by Students (JAMS) — took the lead on the breeding, care and sales decisions regarding the six heifers and their offspring. So far the herd has produced seven calves.
Any proceeds that come from the prize heifer's offspring will go back into the dairy, which helps to support the college's philosophy of hands-on learning.
You can also support CAES' efforts to provide hands-on experiences to students by contributing to the Animal and Dairy Science Discretionary Fund today
https://give.uga.edu/wp-content/uploads/HerschelMaryEthelandBrooksSMALL.jpg
600
800
Alvieann Chandler
https://give.uga.edu/wp-content/uploads/logo-campaign-uga.png
Alvieann Chandler
2018-07-03 16:31:37
2018-09-26 20:14:48
Donated Jersey heifers produce first granddaughter calf