Clark Howell Hall Renovation Enhances UGA Learning Environment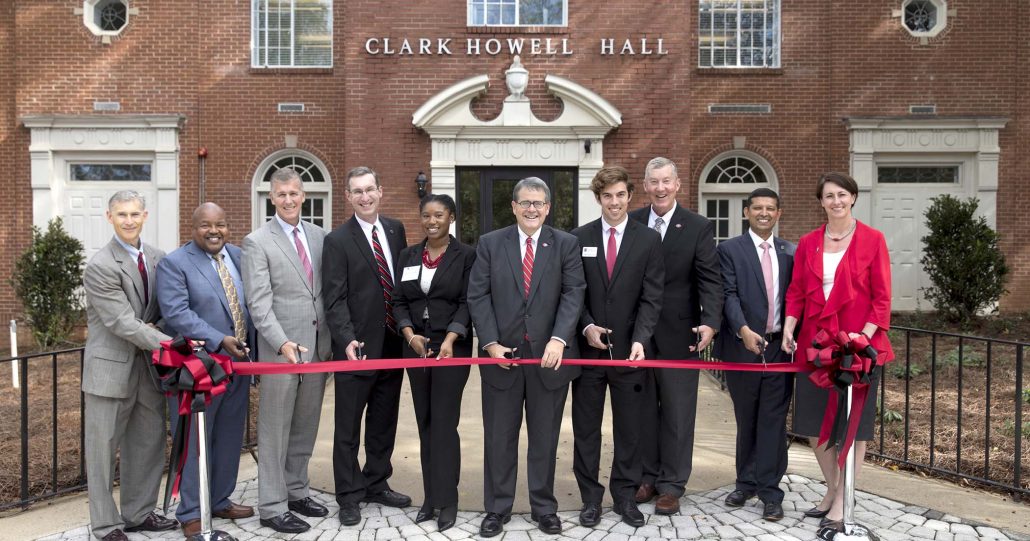 This article is adapted from a piece originally written by Krista Richmond for UGA Today.
ATHENS, Ga. – UGA President Jere W. Morehead, joined by fellow university leaders, dedicated the newly renovated Clark Howell Hall, which offers greater accessibility for the more than 27,500 people who benefit from the Career Center, the Disability Resource Center and University Testing Services each year.
Donors can sponsor four key naming opportunities in the newly renovated Career Center. These four areas are as follows.
The career commons, located at the main entrance, includes a reception desk and career waiting area, while also serving as the primary greeting space for students, employers and all over guests visiting the Career Center. The career development room is a versatile space in a high-traffic area directly across from the reception desk. This space is used for career programs, advising and networking events.
Campus interview rooms will provide year-round exposure among thousands of students and hundreds of competing companies, and the employer board room is a conference room designed for employers to organize their recruiting visits, welcome student candidates and discuss the next steps int he selection process.
"The renovation of this facility will greatly enhance the world-class learning environment that we are establishing at the University of Georgia. I encourage our students to continue to utilize the outstanding services that will be located at Clark Howell Hall," Morehead said during the Oct. 23 dedication ceremony.
The 33,000-square-foot building, originally a residence hall, was constructed in 1937 and is named for Pulitzer Prize-winning journalist and Georgia political leader Clark Howell.
Supported by the Board of Regents of the University System of Georgia and funded by Gov. Nathan Deal and the Georgia General Assembly, the renovations totaled $6 million-$5 million in state funds appropriated for the project as well as $1 million in institutional funds. The work includes improved accessibility; upgraded mechanical, plumbing, electrical and fire alarm systems; and updated data and audio/video systems, according to Chuck Cartwright, project architect with the Office of University Architects.
"I've always been a believer in the power of place and engagement," said Victor K. Wilson, vice president for student affairs. "These renovations enable students to have a truly welcoming home in which they can engage and be supported."
For the Career Center, which connects UGA students, alumni and employers in the pursuit of meaningful professional development, the additional space allows more opportunities for students seeking successful careers.
"The renovation of Clark Howell Hall is greatly enhancing how our staff is able to serve students," said Scott Williams, executive director of the Career Center. "With more interview rooms, meeting spaces and updated amenities, we are now able to provide high-quality, professional spaces for the hundreds of employers and thousands of students who visit the Career Center each year."
Areas within the Disability Resource Center, which provides an academic, physical and social environment for students with disabilities at UGA, also received an update as part of the renovations.
"We're thrilled that with the clean reception areas and the comfortable feel provided by the new heating and air, along with updated conferencing facilities, we can provide our students the welcoming atmosphere we want to give them," said Tim Carr, assistant director of the Disability Resource Center. "Our goal is to provide the best services and support we can, and these updated facilities will help us do just that."
Students who use the center agree.
"The DRC renovations have made the environment in which students can study, interact and relax with other students more inclusive and accommodating. By creating clearly identified directions and room labels, for example, students like me who have partial visual impairments can easily navigate through the building while also feeling comfortable and cared for," said Risa Matsumura, a fourth-year student majoring in cultural anthropology and sociology.
The space of University Testing Services, which provides centralized testing and evaluation services for all students, faculty and the surrounding community, also increased as part of the renovations.
"We've greatly increased the size of our reception area, creating a new, dedicated waiting room with new furniture and space for folks to check in and wait comfortably. We have always strived to provide a warm and welcoming environment for our exam takers, and now we have plenty of space to provide comfort as they arrive," Associate Director Yvette Leverett said. "The feedback from our students has been great-they love the new space."
Interested in a naming opportunity? Email Jennifer Kilcrease today at jenkil@uga.edu or give her a call at (706) 542-0781.
https://give.uga.edu/wp-content/uploads/Howell_Hall_JM_edits.jpg
1102
2100
Josh Mixon
https://give.uga.edu/wp-content/uploads/logo-campaign-uga.png
Josh Mixon
2017-10-31 19:57:17
2018-10-01 18:09:53
Clark Howell Hall Renovation Enhances UGA Learning Environment