3,500+ donors participate in UGA's inaugural Giving Week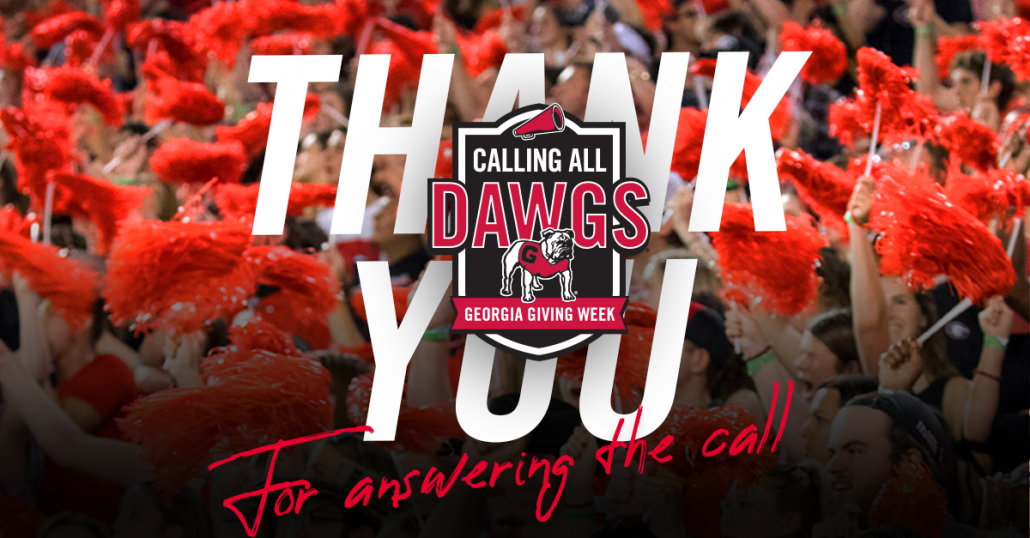 More than 3,500 members of the UGA community, including alumni, parents, faculty, staff, students and friends, came together the week of April 20 to raise over $1.4 million in support of the university's goals of removing barriers to education, enhancing the learning environment and solving grand challenges.
"We called all Dawgs – and they answered. We are exceptionally grateful for the Bulldog family's display of generosity and pride during Giving Week," said Kelly Kerner, vice president for development and alumni relations. "The gifts made in just one week will have an incredible impact in the form of scholarships, new programs, study abroad opportunities, research funds and so much more."
Bulldogs from 45 states and six different countries made gifts in support of many areas of the university, including all 17 schools, Athletics, Academic Affairs, the Botanical Gardens, Libraries, Research and an array of student organizations. Most donors gave to the Georgia Fund, UGA's unrestricted fund that supports the university's most pressing needs, which fully supported student scholarships this year. Schools' unrestricted funds are used at each dean's discretion. Gifts to the College of Veterinary Medicine might be used for provisions as basic as peanut butter – it's used by the gallon during animal rehabilitation and often in short supply.
"Giving Week is all about alumni participation and the power of collective giving," said Kerner. "We had gifts ranging in size from $5 to $175,000, and each one is important and fuels UGA's success and mission."
The success of Giving Week was bolstered by the efforts of the UGA Alumni Association Board of Directors and many alumni volunteers, such as chapter and leadership councils, who reminded their peers that every Dawg counts. Prominent alumni, including Coach Kirby Smart, Malcolm Mitchell, and Dave Haywood and Charles Kelley of Lady Antebellum challenged the Georgia family to show the world just how loud Dawgs can bark.
Not only does alumni giving participation create a diverse base of current and future support, but it has an effect on UGA's reputation. Alumni participation is one of the seven factors considered in U.S. News & World Report's Best College Rankings. With participation rates down across the country, Georgia Giving Week was a dedicated time to reinvigorate and inspire our alumni donors.
"It was encouraging to see so many alumni around the globe come together to give back to our alma mater," said Bonney Shuman, UGA Alumni Association president. "As alumni, we share a sense of duty and dedication for future generations of Bulldogs. I couldn't be more proud of what we did in support of current and future students during Giving Week!"
Fundraising corresponds to the fiscal year, which ends on June 30. If alumni and friends missed Georgia Giving Week, they can still be counted as donors and make a difference this year with their gifts.
To learn more about giving to the University of Georgia, visit give.uga.edu.
https://give.uga.edu/wp-content/uploads/ThankYou-Facebook-2019-GivingWeek.png
627
1200
Katy Clements
https://give.uga.edu/wp-content/uploads/logo-campaign-uga.png
Katy Clements
2019-05-17 13:54:23
2019-05-17 13:54:23
3,500+ donors participate in UGA's inaugural Giving Week