Class of 2017 Senior Signature Campaign Breaks Longstanding Record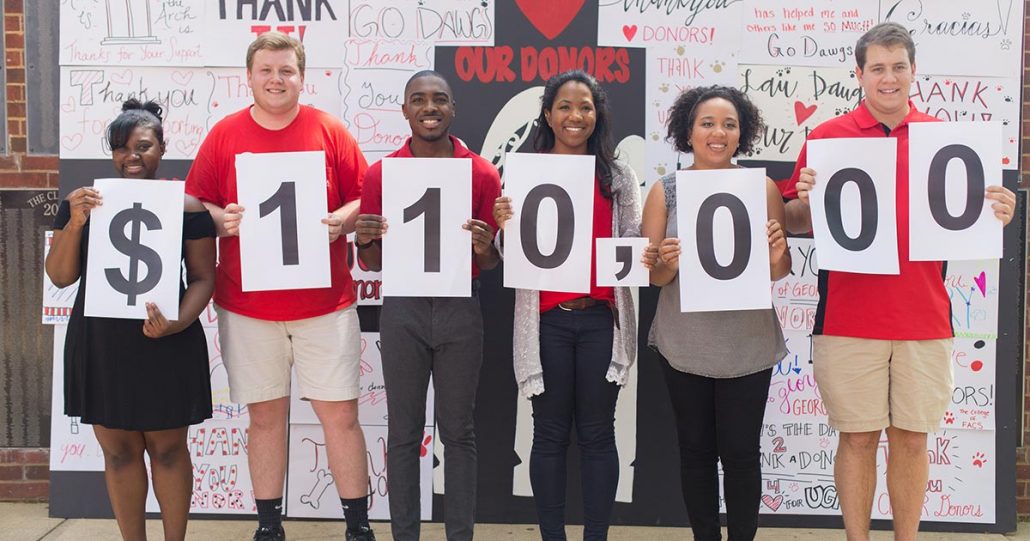 Written by Josh Mixon '19
Twenty-six years after the creation of the Senior Signature campaign, the number of donors is at an all-time high.
Senior Signature, a tradition which allows graduating seniors to leave a permanent legacy on the University of Georgia's campus, set a record with 2,164 signatures this year. The 2017 class surpassed their goal of 2,017 signatures and also raised $110,000, exceeding their goal of $100,000.
Although the Senior Signature campaign officially began in 1991, graduating seniors have been giving back to UGA since the early 1920s.
In 1920, UGA student newspaper The Red and Black announced a $1 million capital campaign led by alumni. The 1920 senior class pledged their support ($10 per student) to the campaign, and each donor would have their name engraved on a metal tablet. Beginning in 1991, graduating students who donate to the Senior Signature campaign have their names permanently displayed in Tate Plaza – just across from Sanford Stadium and in the heart of main campus.
Now, nearly 100 years after the Class of 1920 inspired one of UGA's proudest traditions, students continue to demonstrate generous support for the university, providing countless opportunities for newer members of the Bulldog family.
"The University of Georgia has had a profound impact on shaping me as a leader and as a person," said Reed Turry (BBA '17). "My time at Georgia has been the happiest four years of my life, and the only way for me to ensure that future students receive the same experience as me is to give back to the school that has given so much to me."
Senior Signature allows graduating students to support younger Bulldogs' educational experiences; their donations provide critical funding to enhance academic programs and opportunities. The number of alumni who donate to UGA also factors into the university's national rankings.
"I gave to Senior Signature because I wanted a chance to leave my mark at UGA by giving back to thank UGA for providing me with more resources and opportunities than I could have ever imagined," said Jakira Trawick (BBA '17). "I want for the future Bulldogs to be able to have these same opportunities and more, so I knew that donating to Senior Signature was something that I needed to do."
A portion of each Senior Signature donation goes to the Georgia Fund, which currently supports student scholarships. The rest is given to a specific area chosen by the donor; this can range from a particular college, a specific scholarship program, or a department or organization that had a meaningful impact on the donor's time at UGA.
Senior Signature provides graduating seniors with an opportunity to honor their UGA experiences and promote the university's long-term success. The strength of this year's Senior Signature campaign serves as a significant endorsement of the university's future.
"I know that I plan to give to UGA for the rest of my life," said Lindsay Vandiver (AB '17). "Who knows where UGA would be if we had even 50 percent of our current students and alumni donating their time, talents, and money?"
Related links:
https://give.uga.edu/wp-content/uploads/preview-senior-signature-2017.jpg
630
1200
bsharp_uga_74
https://give.uga.edu/wp-content/uploads/logo-campaign-uga.png
bsharp_uga_74
2017-05-22 19:51:56
2018-06-14 20:53:05
Class of 2017 Senior Signature Campaign Breaks Longstanding Record